Bahamas – I call it "Heaven on Earth"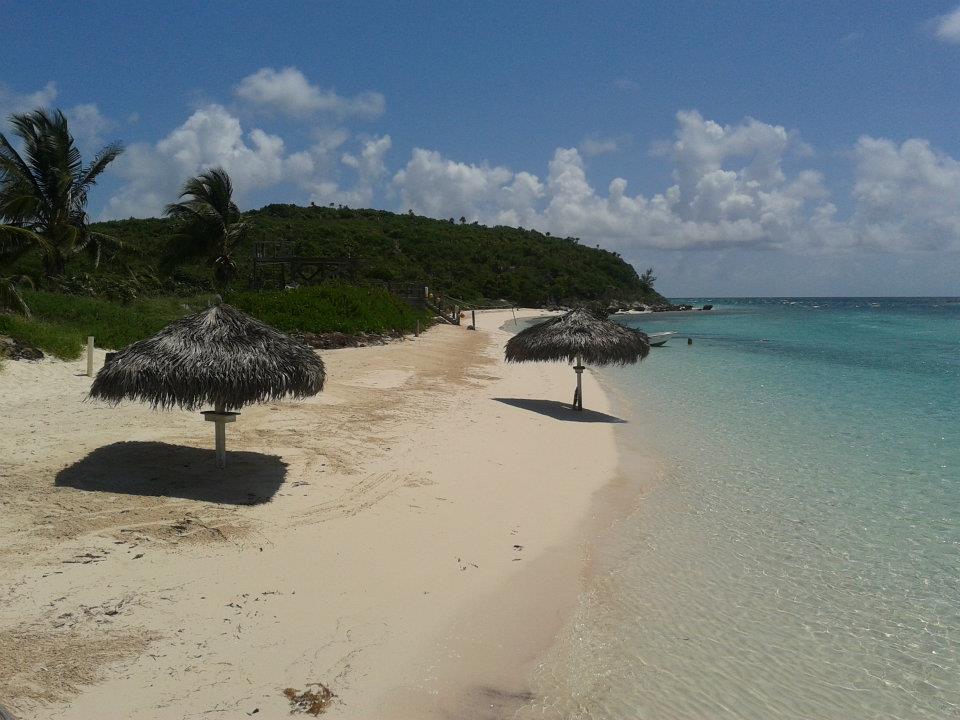 Almost 24hrs flight to reach the place;totally exhausted and drained of all energy but when the flight landed across the Atlantic Ocean, I had to hold my breath. The view was spectacular and all the exhaustion and tiredness vanished instantly engulfing me with happiness and contentment.
After the hassle free immigration, when I stepped outside all I could see was the mesmerizing view of Atlantic Ocean. My client was waiting to take me to the resort and yeah I was greeted by a local beer "Kalik" ; when in Bahamas – you need to try this local beer.  Drinking our way we made it to the Resort – Breezes.
So yeah… it was a Business Trip !!  Travelling all the way from India to Bahamas on an official visit, was definitely exciting. My trip was for 9 days – 7 days of work and 2 days of Masti (FUN).
All Inclusive Accommodation in Nassau!!
Breezes, an All Inclusive Beach Resort is a very good property located on the island's best beach – Cable Beach!! You can choose from it's extensive range of drinks throughout the day and enjoy the beauty. While in Bahamas, you have to drink the island's best cocktail – "Bahama Mama"; one of my favourite. Snacks will be available at the Pool Grill – make your pick, hold a drink; sit back and relax !! Take a dip in any of the 3 swimming pools or relax in a Poolside Jacuzzi; indulge yourself in water activities or simply take a sun bath – absolutely your choice.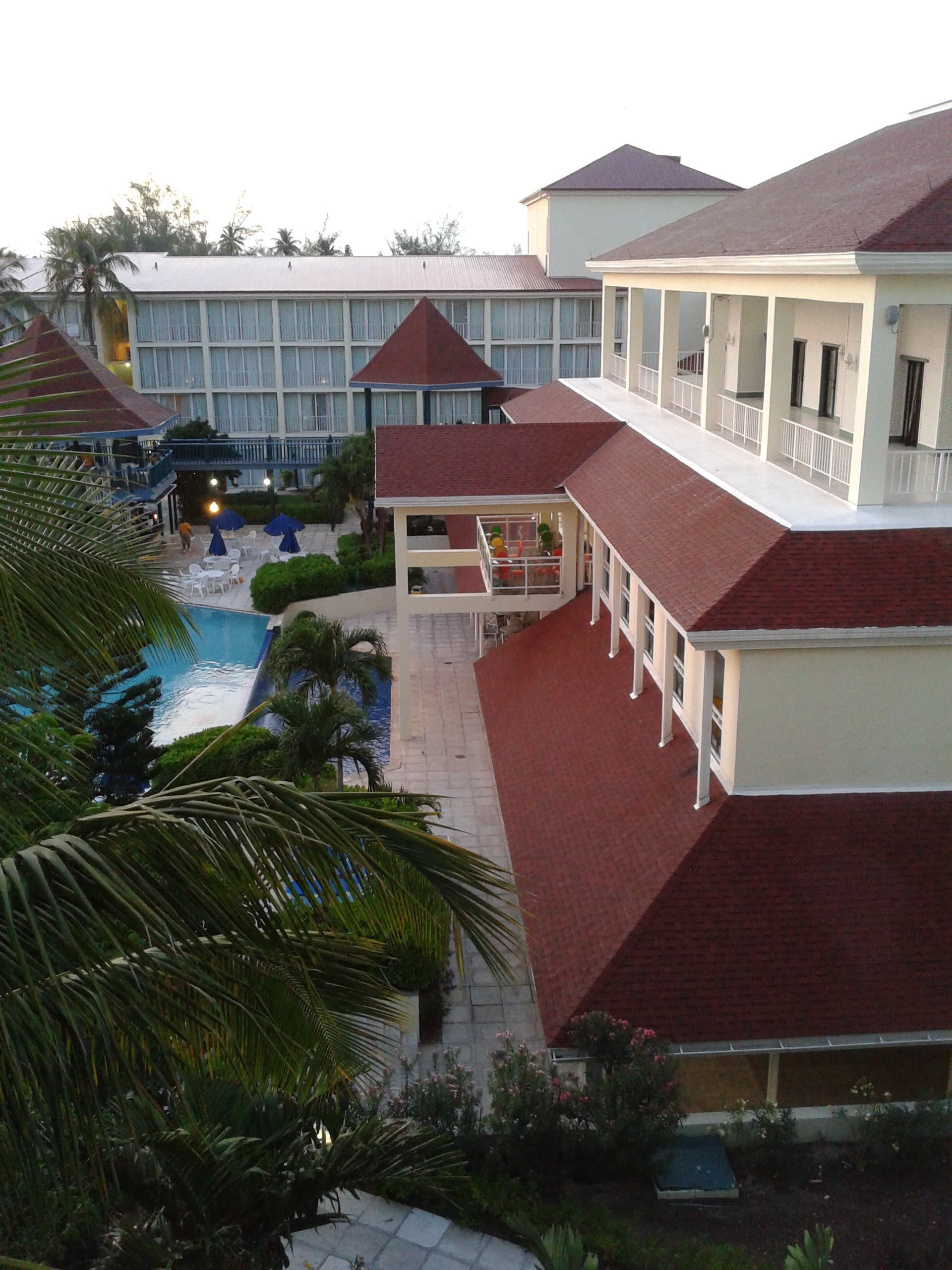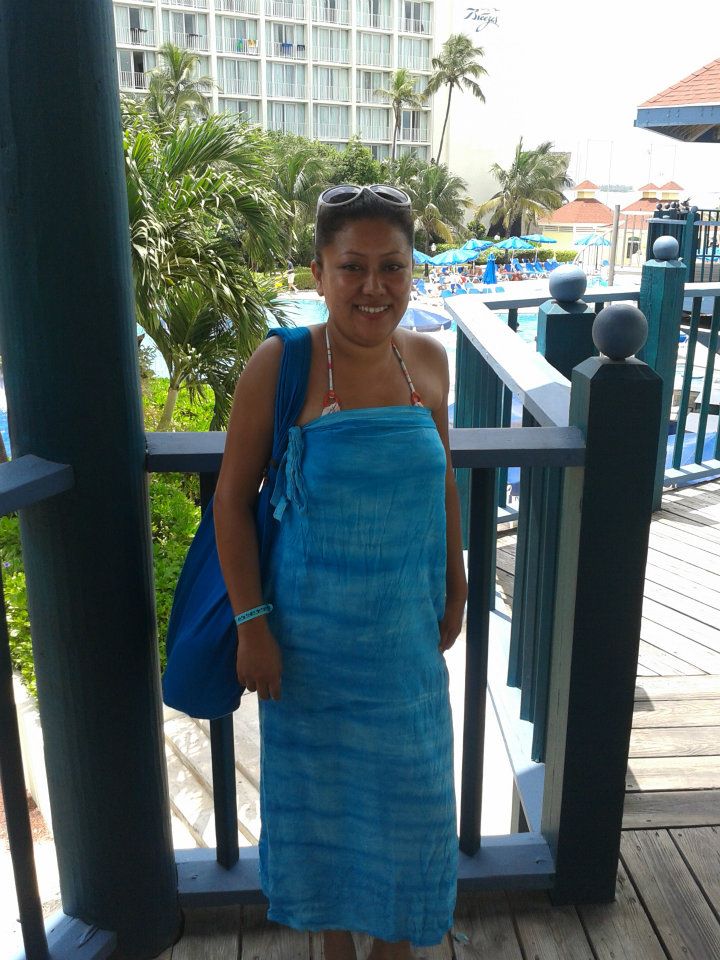 As mentioned, because it was a business trip I was occupied from 9AM to 5PM with work, but the evening was all mine. Loved Breezes, loved the Beach – Everyday I would wait to get back to the hotel, throw my laptop, get on my beach wear and take a dip !! It was an awesome feeling, out of the world experience. Even though I couldn't spend the day at the resort, the night used to come alive at Breezes with its endless entertainment – live band and theme nights!!
So, my dear friends if in Nassau; Breezes would definitely be a good choice to stay.
Nearby Islands to Visit
Let me talk about the nearby islands that I visited; Paradise Island, Exuma, Rose Island and Blue Lagoon.
Paradise Island..
You need to board a ferry to visit all these islands and the Ferry Terminal is situated in Paradise Island. Again, a beautiful island with some great beaches – Do not miss to see Cabbage Beach.
Needless to say, you would definitely visit "Atlantis" and the Casino in it. It's okay to lose couple of dollars to experience it. Well; if you want to lose more or if you think you are good at gambling you can try your luck… Gambling is not my cup of tea.  The other must visit while in Atlantis is "The Dig"- It is a series of aquariums located beneath the lobby of the Royal Towers. Hundreds of different aquatic species can be spotted here. Taking a walk in the tunnels and watching those species, I felt I was in a different land. It was quite an experience. You can also see the Michael Jackson Suite (Bridge Suite) from outside, I guess its nightly cost is $25,000 so you can imagine the luxury that it would offer!!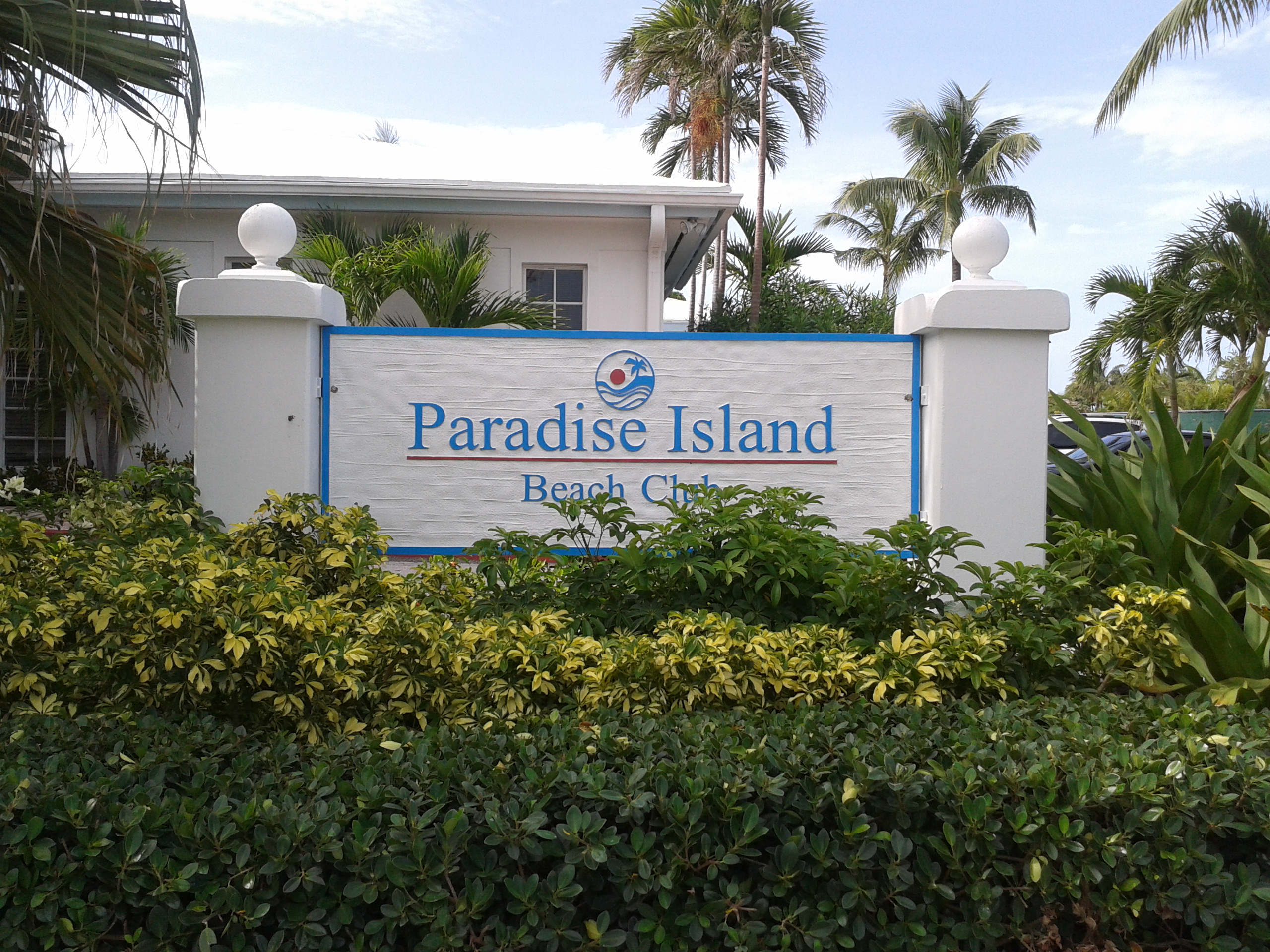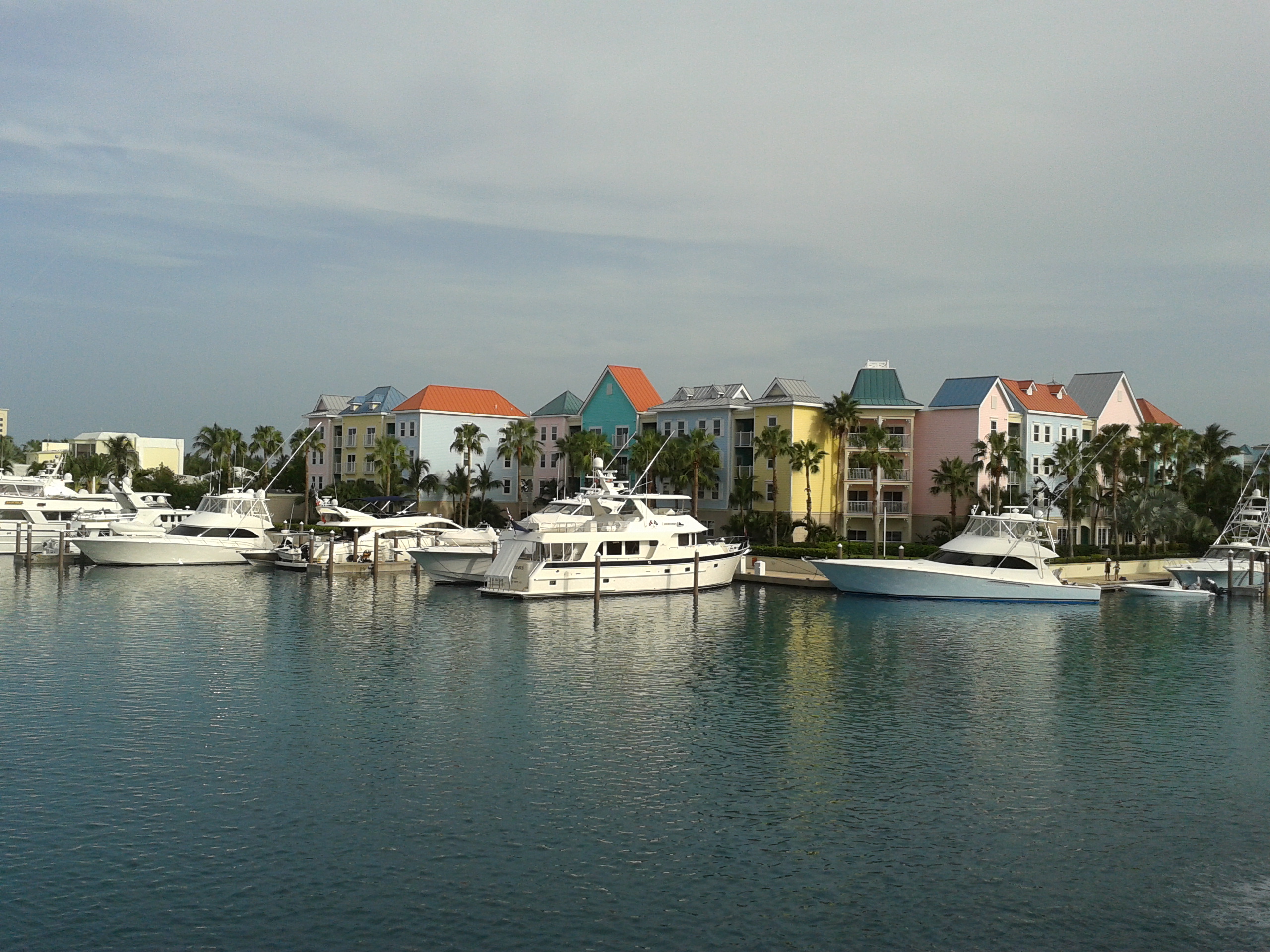 Poop Deck…
We went to Poop Deck for dinner after Atlantis in Paradise Island. It is a harbor view restaurant. Good choice of food options and good ambiance.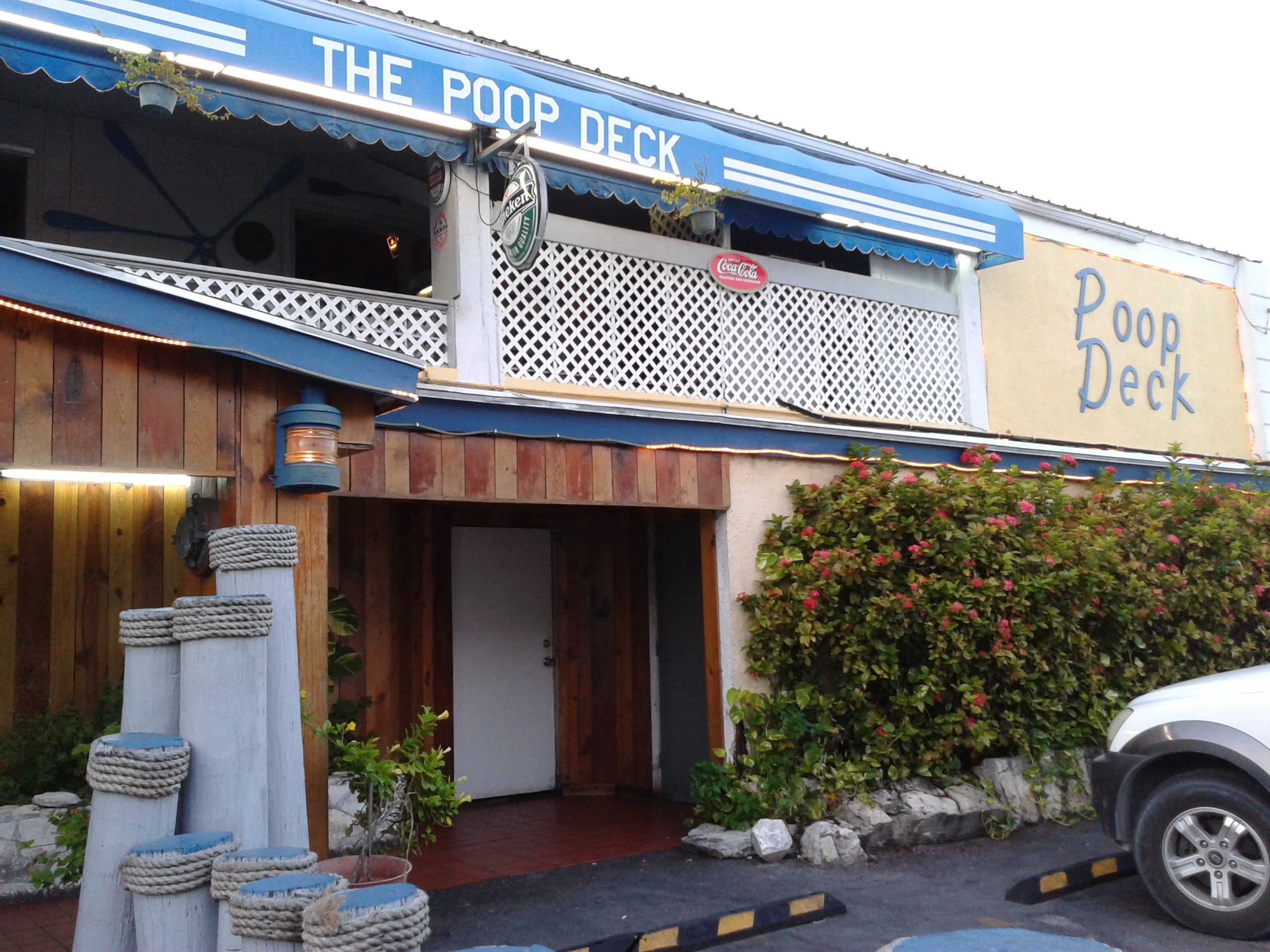 Exuma.. Breathtakingly beautiful..
Experience a Powerboat Adventures to Exuma. Exuma is just breathtaking!! It is BEAUTIFUL… I haven't seen a place as beautiful and serene as Exuma. Wow !! The view is still fresh in my mind. You can go for snorkelling and do shark feeding here. I couldn't do both as I hate to say but I didn't know swimming then and was scared of water and shark too.. but yeah I've made sure to face my fear and now I can say if I get the opportunity I would definitely go snorkelling.
Sandy Toes.. on Rose Island…
Another amazing experience was at Sandy Toes, Rose Island. Sandy Toes is owned by my client in Rose Island – the only there in that Island. Rose Island is uninhabited and we took a ferry from Paradise Island; celebrated my client's daughter's 30th B'day, partied hard all night and came back. Sandy Toes is a place to be – drink, dance, party hard, walk in the beach, swim, see the sun set in the ocean, have super fun and come back elated.
Blue Lagoon Island for Dolphin Encounter…
If you love Dolphins, do not miss on Dolphin Encounter. You can visit Atlantis for it or go to the Blue Lagoon Island. I choose Blue Lagoon Island as I simply loved travelling by Ferry. Another beautiful island made perfect with the encounter with the Dolphin. You can take up Dolphin Swim if you know swimming. It was a wonderful experience when you get a chance to hug the Dolphin and they even kiss you on your cheeks 🙂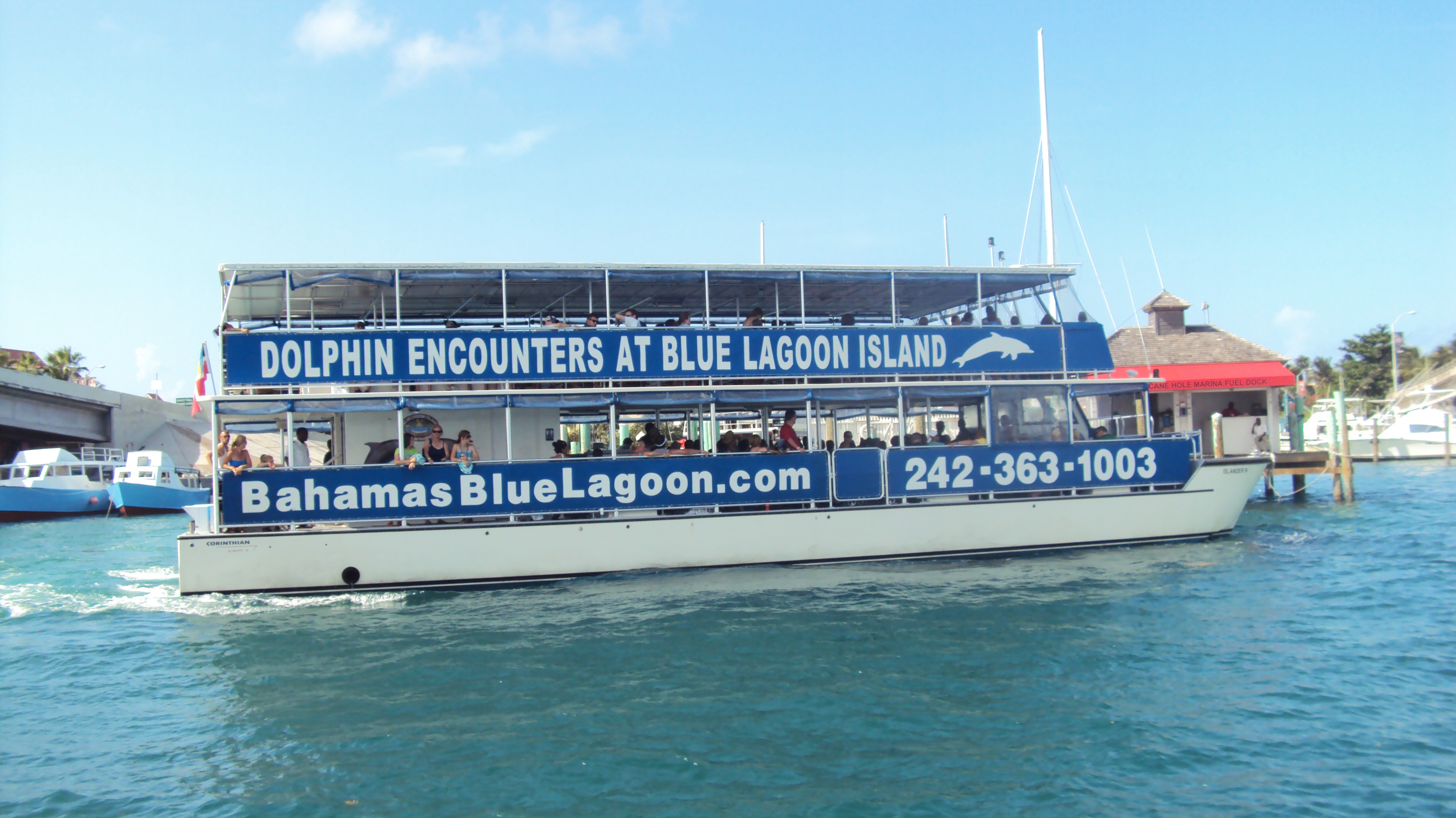 Yatch Party on US Independence Day..
Cherry on the Cake – It happened to be July 4th, US Independence Day and my client's family friend had host a party in a yatch!! We sailed in the Paradise Island to experience the firework and it was simply amazing!! That party in the yatch was a killer, I remember till date.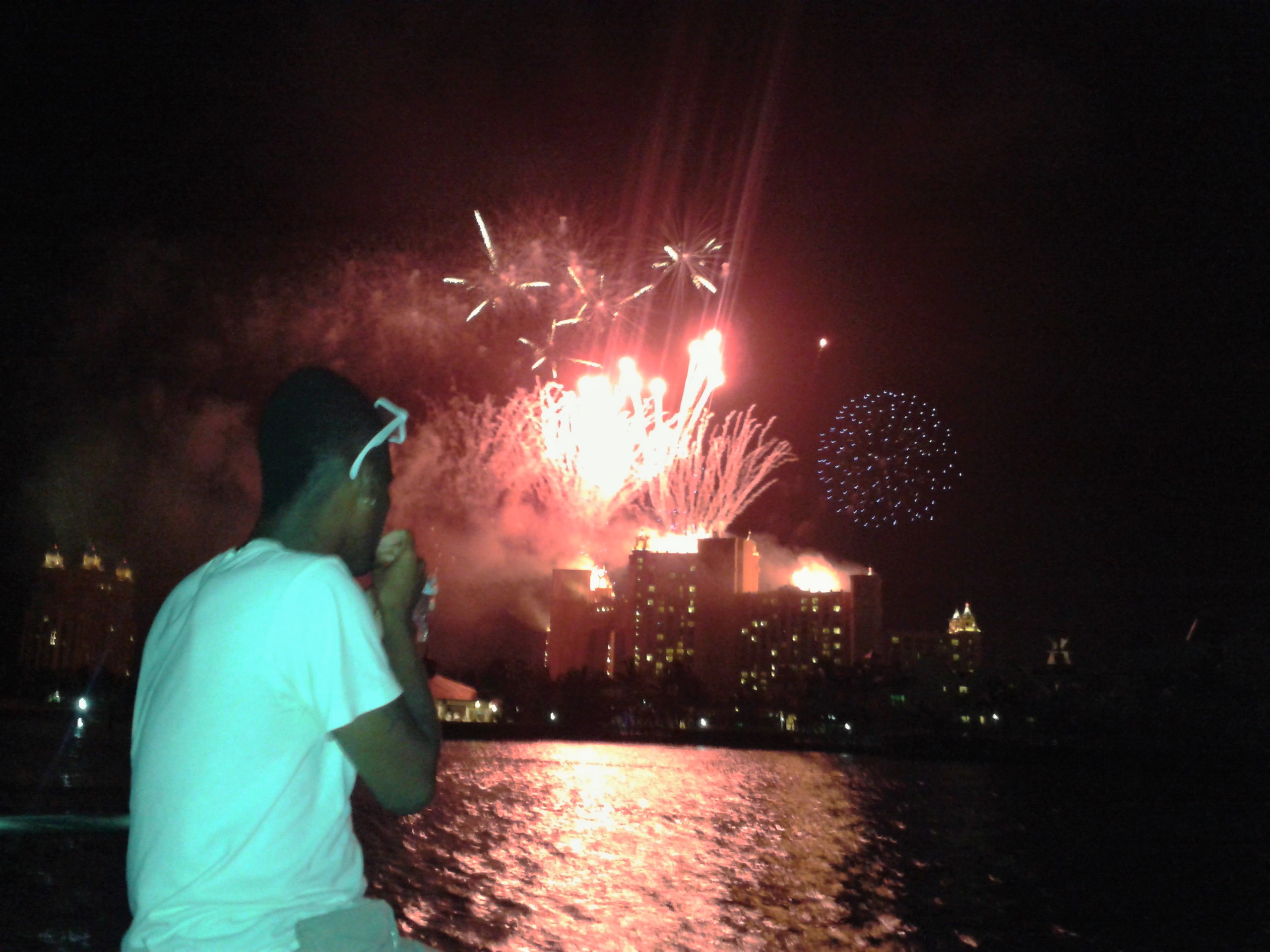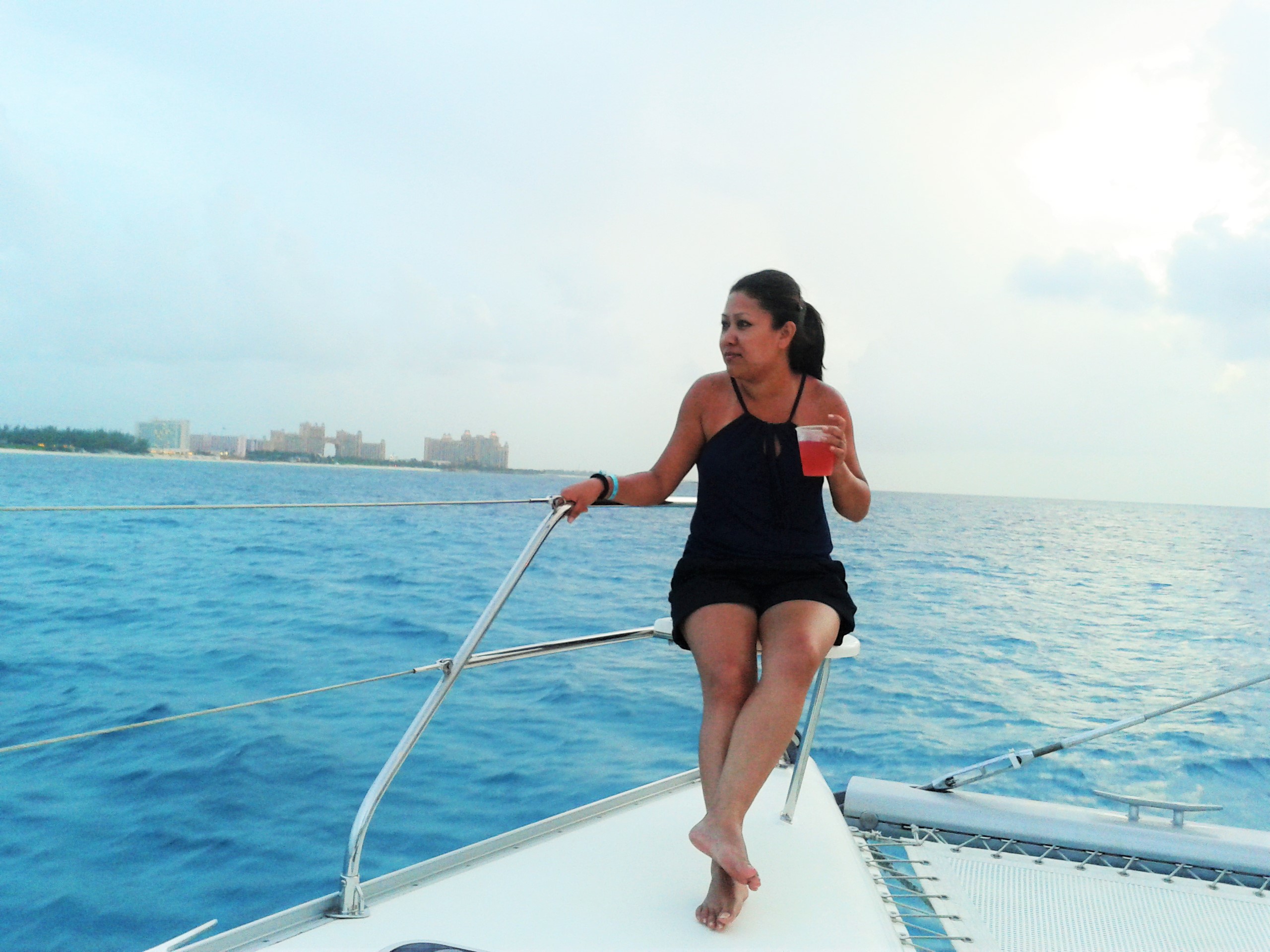 Downtown Nassau..
To end, Downtown Nassau is also good if you want to buy some local stuff. I would suggest do not think to shopping there as everything was pretty expensive because it's imported to the island. You can pick some souvenirs but definitely not a place for shopping, if you're looking for economical stuffs.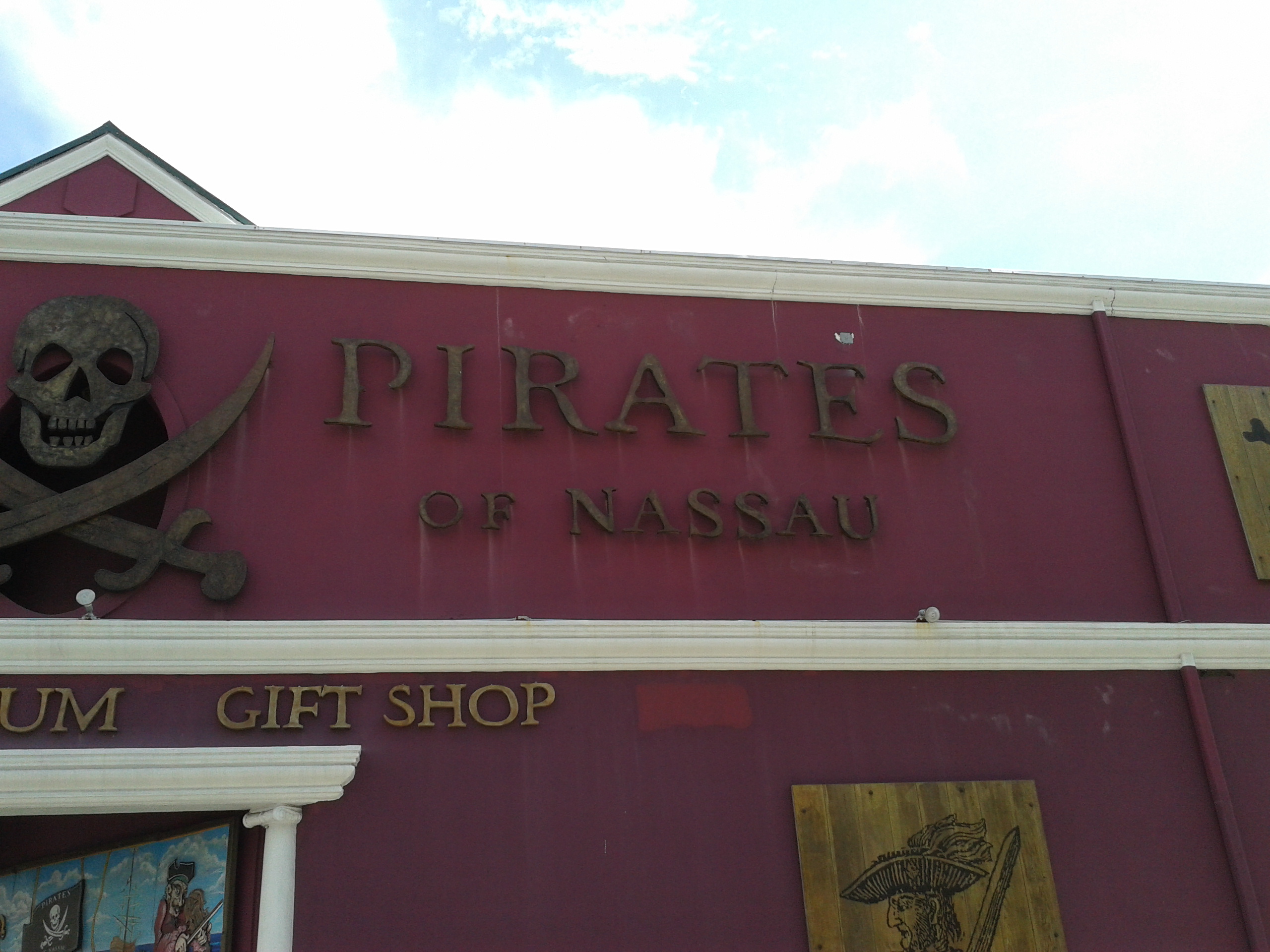 Some tips:
Do not forget to carry a sun block with atleast SPF40. It is a must. I had a very bad sunburn and that definitely hurts.
Try the local food – grouper fish and land crab. People who doesn't like sea food, chicken will be there for your rescue. Vegetarians – no idea, I didn't try.
You can visit Cricket Club in Nassau and enjoy Daddy Long Leg's songs. That's what he is famously known as.
Visit Poop Deck. You will enjoy the complete view of Nassau Harbour.
Must Drink – Kalik (Beer), Bahama Mama, Sky Juice.
It was hard to say goodbye to that place and I sure had tears in my eyes while bidding adieu. But, as all good and bad things come to an end… this too did. 9 days but it seemed I lived my life there.. got back with some beautiful memories which I'll cherish forever..
Hope you enjoyed reading it.
Cheers!!