Unforgettable Tour to Italy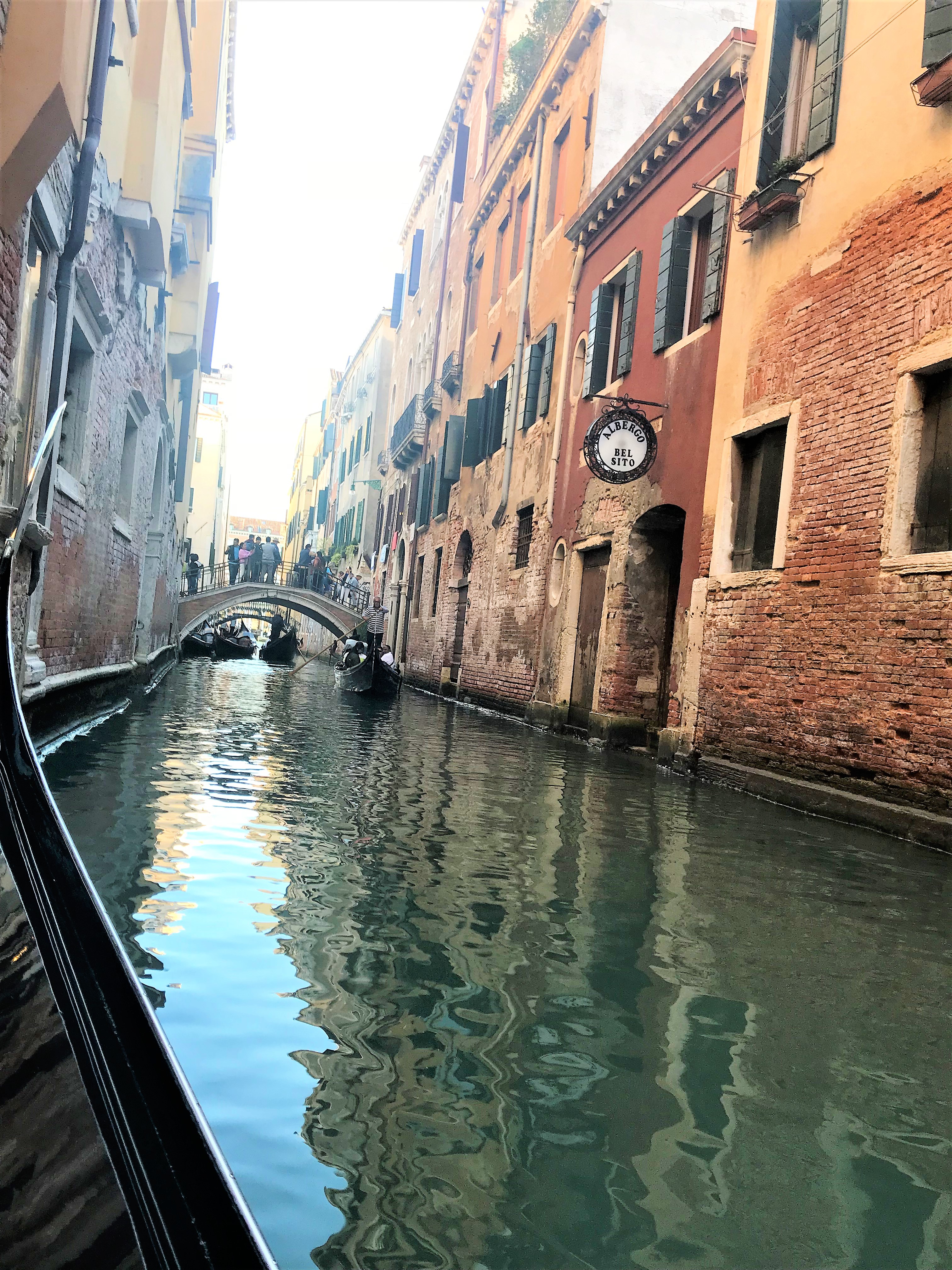 I had been dreaming of travelling to Europe since a very long time and ultimately I couldn't resist when I saw a Kuwait Airlines airfare for less than INR30K return!!
So, the catch is to plan in advance and keep checking the airfare. You never know when you get the best fare. Also, make sure to apply for visa in advance as Schengen takes at least 15 days. You might need time to reapply if your visa gets rejected the first time, like mine. I had plenty of time in hand to reapply and finally got it stamped just one day before my departure.
Mode of Transport
Flight from Delhi to Rome and back from Paris to Delhi– Less than INR30K in Kuwait Airways.
Internal Travel in Italy – Train and it's absolutely reasonable.
Italy to France – Flight (You need to make sure that you purchase Baggage as most of the Low Cost Carriers come with Hand Bag only or fly in a scheduled carrier who provides baggage)
Accommodation in Rome
Make sure to take the hotel near to Termini Station as it's the main transport hub. You can walk to the station and get anywhere you want. There are lots of hotels as well as hostels in a walking parameter to Termini. Preferably a Bed and Breakfast option in a 3* hotel will be comfortable.
What to See in Rome?
Rome is best explored on foot walking through the winding streets. Believe you me, I have walked almost 13 -15 km a day to reach out to all the locations that I wanted to visit.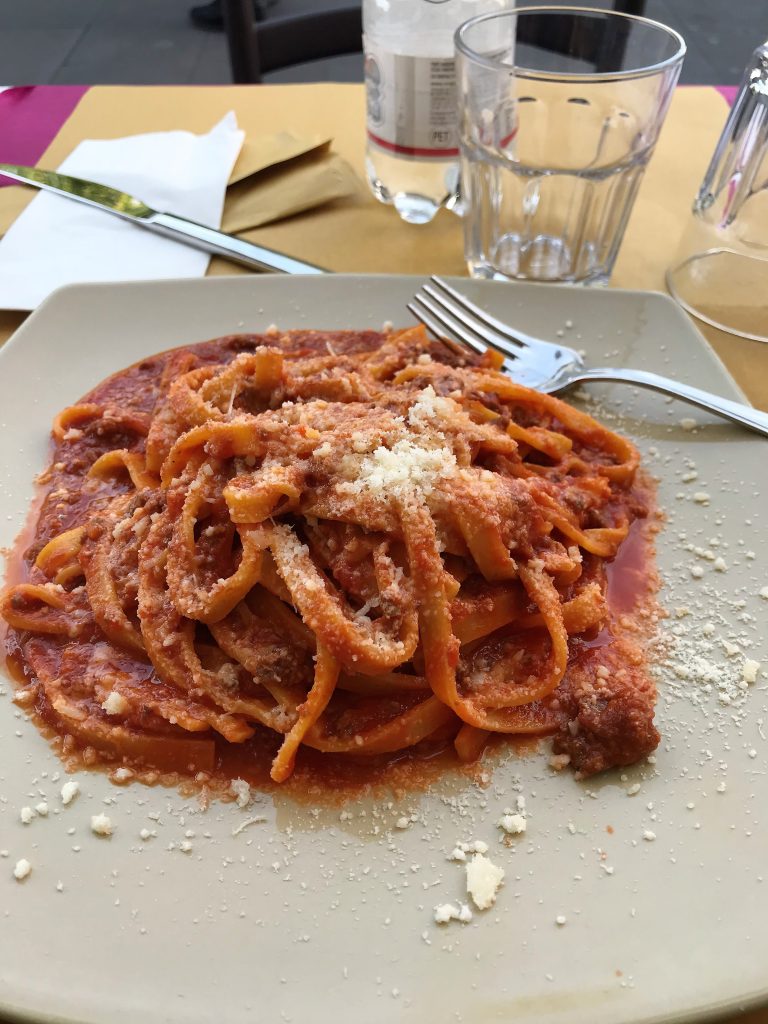 Trevi Fountain
On the day I arrived, after having lunch I walked down to the Trevi Fountain. Had seen it in a lot of movies but experiencing it first hand was awesome. The tradition is to toss a coin to ensure that you'll return to the Eternal City again. It was crowded with people throwing coin in the fountain and taking pictures.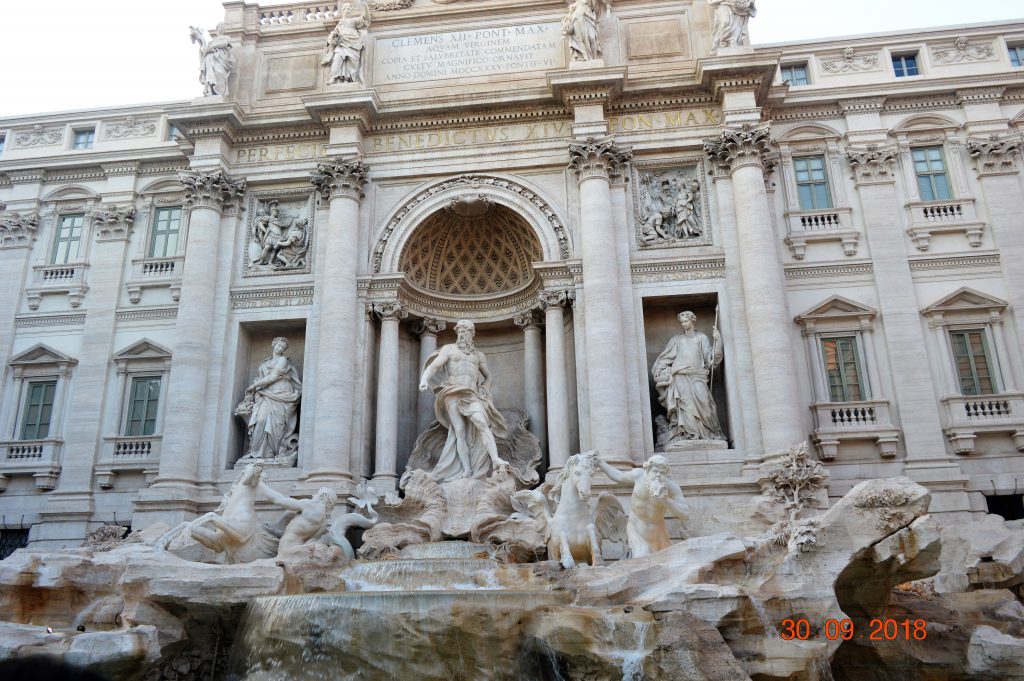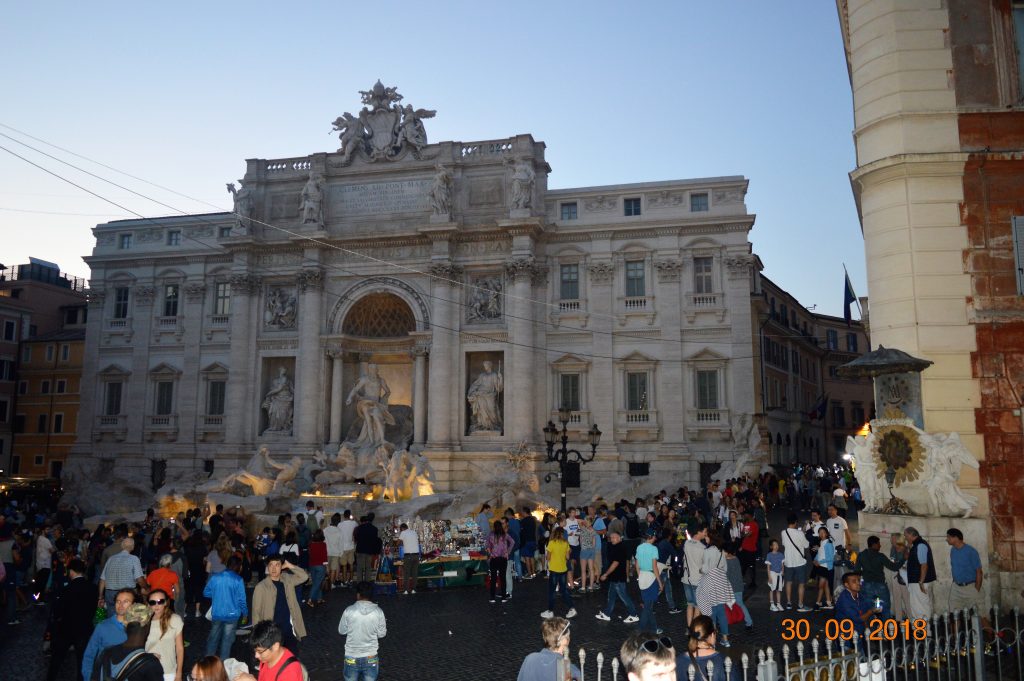 Piazza Venezia
For the next two days I had my guided tours booked. Left the hotel after breakfast and decided to walk around the city as my tour was in the afternoon. In a walking distance from the Colosseum is Piazza Venezia, which is centrally located. All the monuments around are worth a watch. You can just stroll around and I guarantee you'll not regret. There are eateries around the area and after relishing delicious pasta for lunch I made my way to meet my guide for the tour.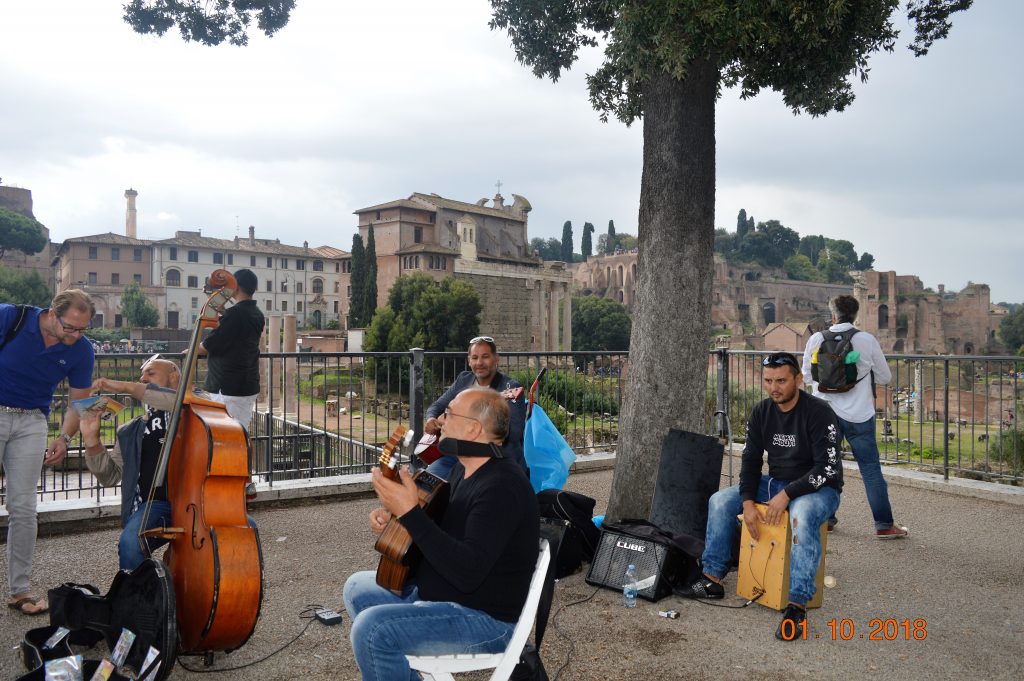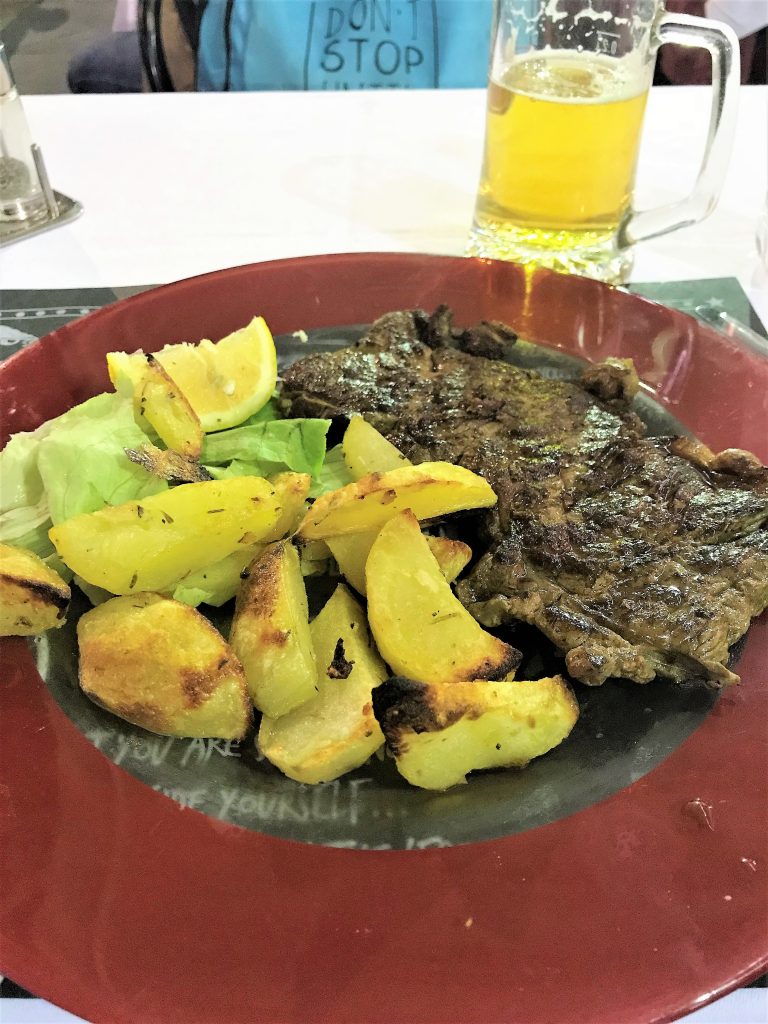 Palatine Hill & Roman Forum

The tour started with walking towards Palatine Hill which is the most central of the seven hills of Rome and the oldest of the city. The grandeur and the architecture will leave you awestruck. The history in itself is so vast that it'll leave you enthralled. You will be able to see the ruins of the magnificent palaces of the Roman Emperors. Make sure to walk to the point overlooking the Roman Forum and the city. Hence, I insist to take a guided tour as it's not worth visiting these places without a guide. We walked down from the Palatine Hill to the Roman Forum where you come across the Julius Caesar Temple. As per our guide Julius Caesar was cremated and not buried, however they have a temple built in the Forum and people till date bring flowers and lit candle. There is so much of history there that every stone shouts it loud!!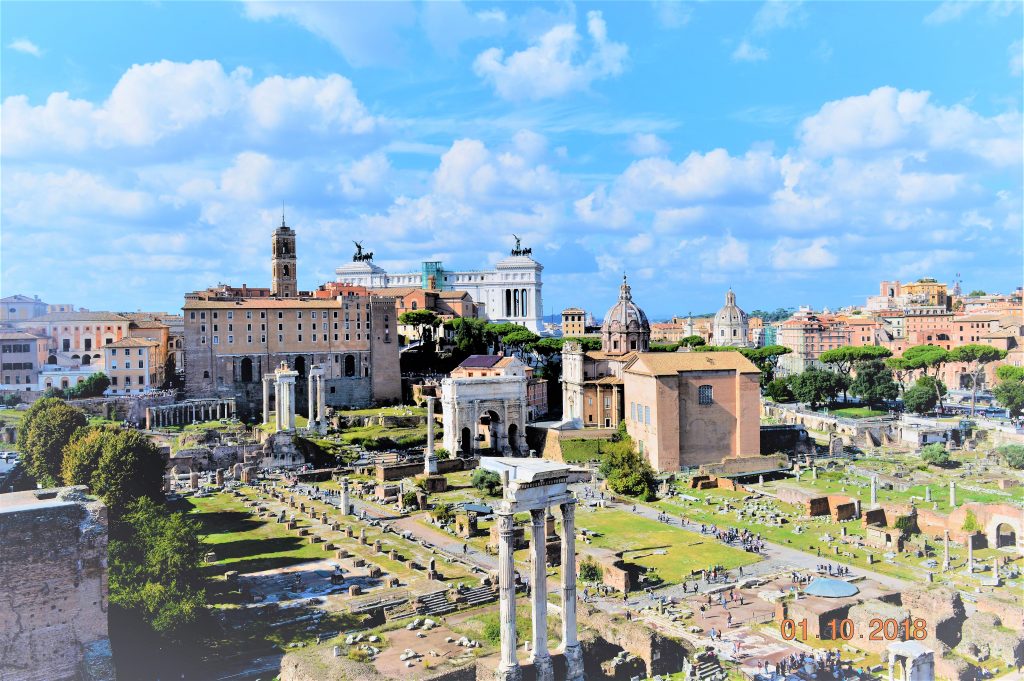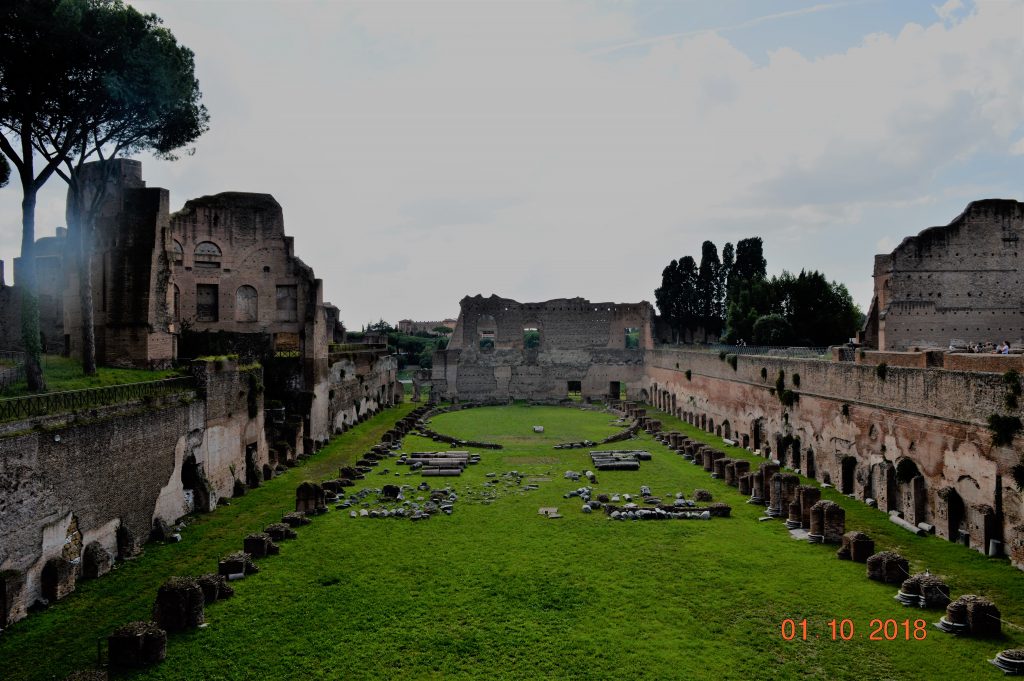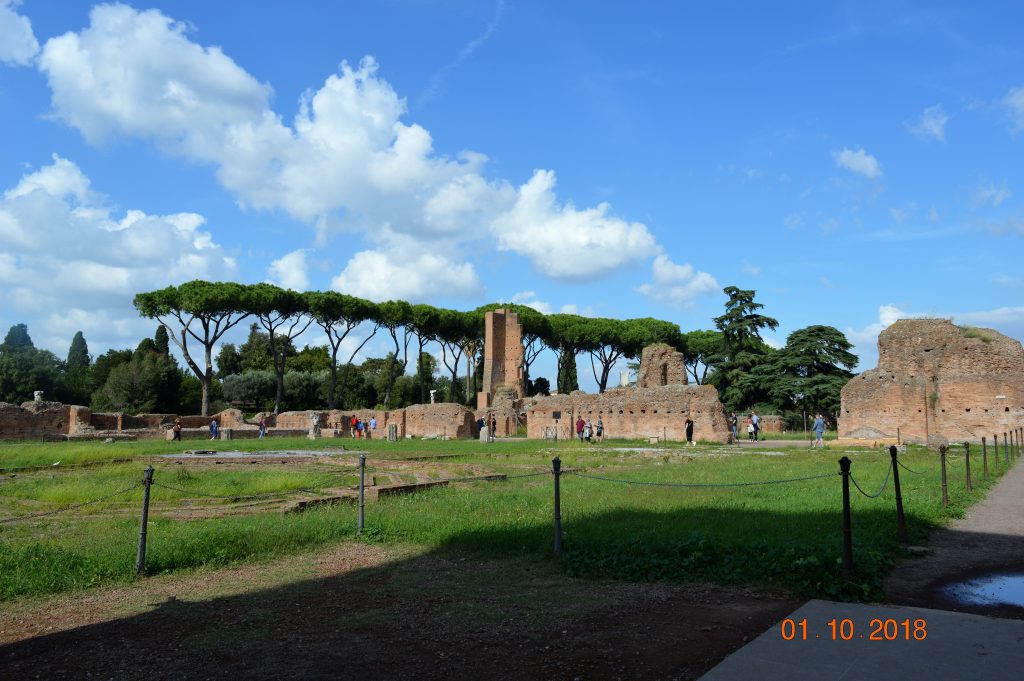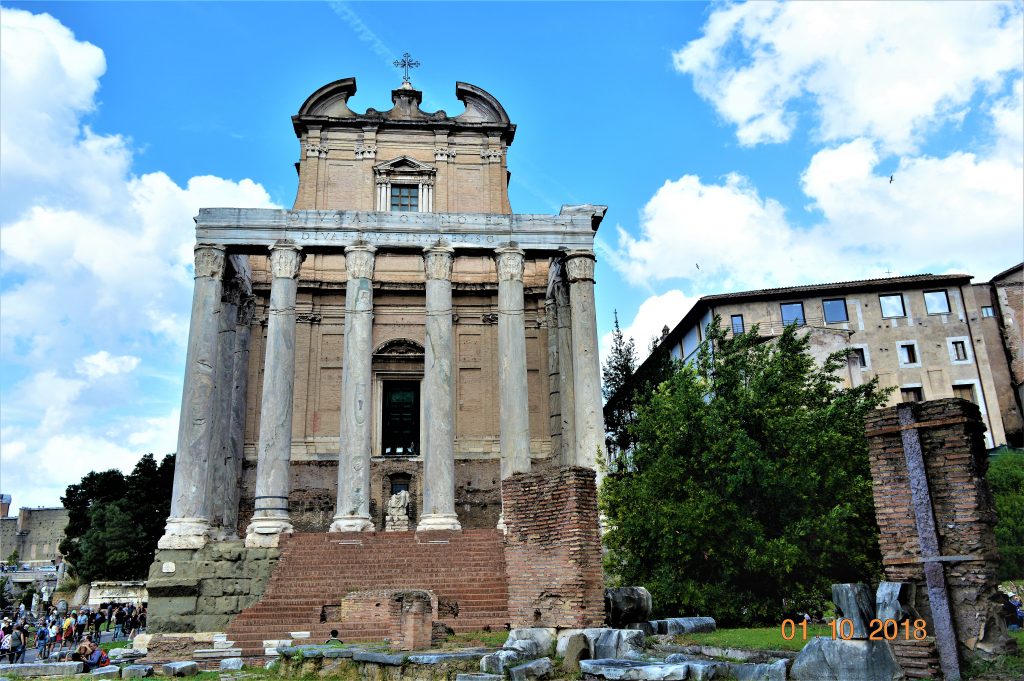 Colosseum
After the Roman Forum we headed toward the Colosseum, the ticket was Skip the line so we got the direct entry without having to get in a queue. This massive oval shaped amphitheatre is worth a visit. It is the largest amphitheatre ever built and definitely an iconic symbol of Imperial Rome. It is believed to hold about 80,000 spectators and used for gladiatorial contests and other combats. Next to the Colosseum is the Arch of Constantine, the arch celebrates Emperor Constantine's victory and the battle that made Christianity the Religion of Rome.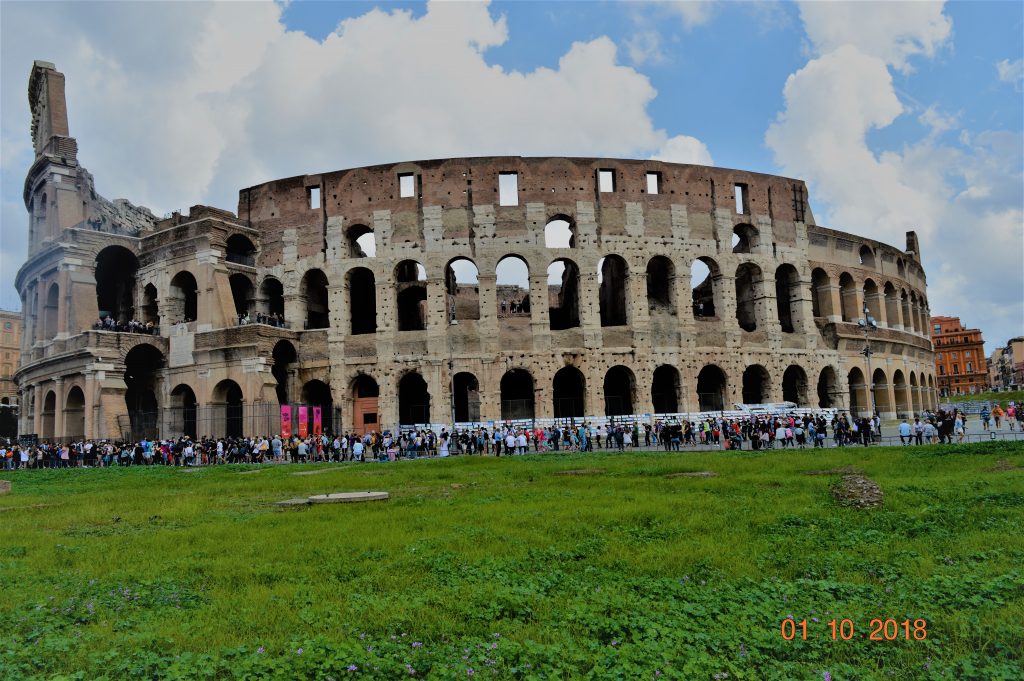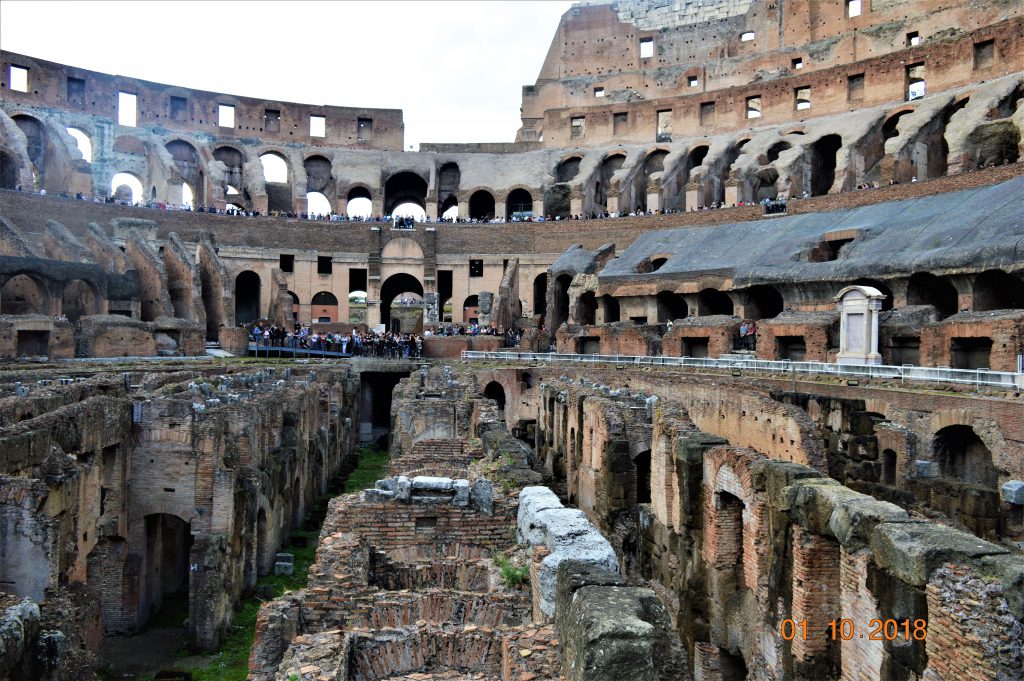 Vatican City
Home to Pope, Vatican City is also a home to Vatican museum and Sistine Chapel which hold art of the state paintings!! Honestly, all of it will take you to another world. The paintings of Michelangelo, Raphael and few other will definitely leave you speechless. You can't stop thinking "WHAT A GENIUS!!" After admiring the paintings at the museum you can walk to the Sistine Chapel. Do not miss to see the paining of Michelangelo on "The Last Judgement" at Sistine Chapel. I don't have a word to express what that piece of art is. It has crossed the boundary of perfection. After Sistine Chapel you can walk to St. Peters Basilica.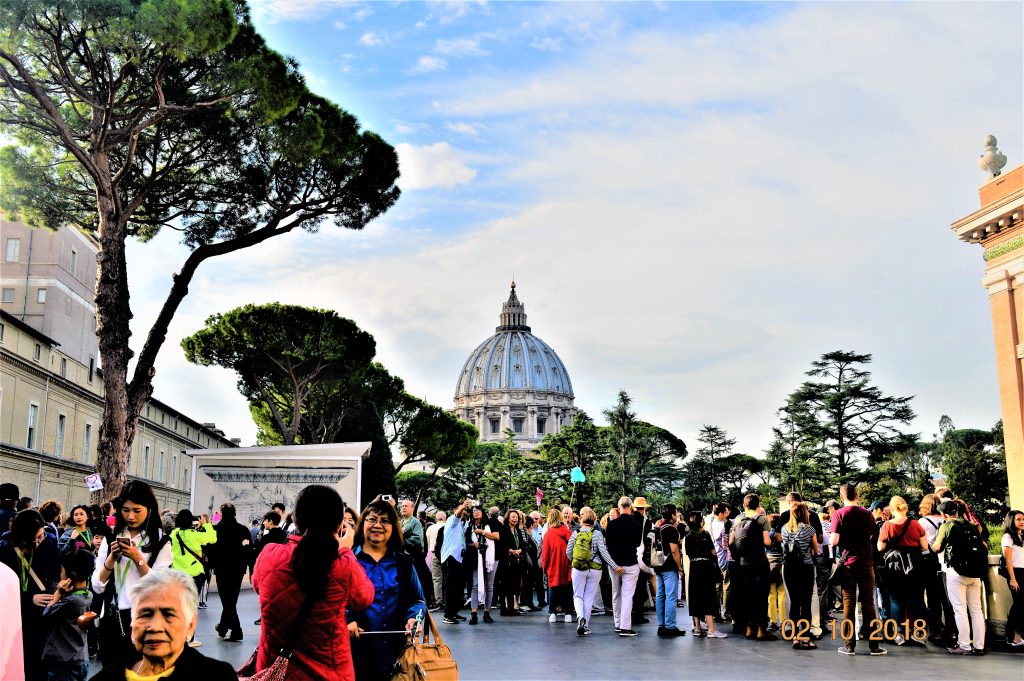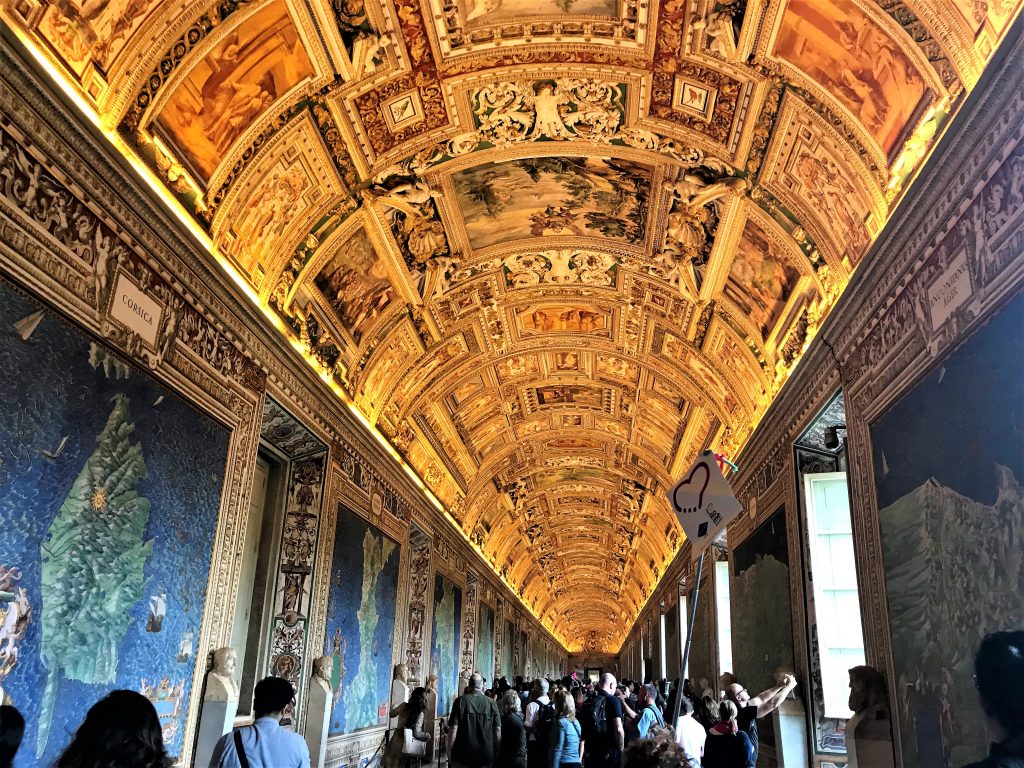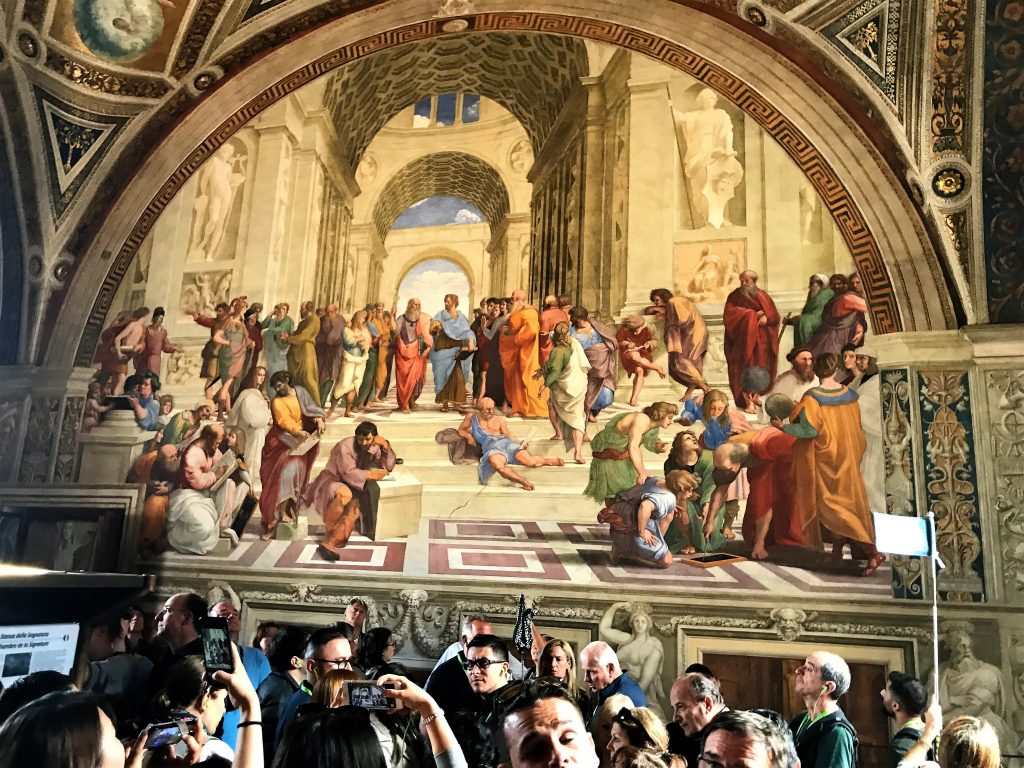 St Peters Basilica, symbol of the Vatican is one of the most beautiful building in Rome. Built upon the tomb of St. Peter, it is the holiest catholic shrine and thousands of people pay a visit every day. Pope conducts a mass every Wednesday outside St Peters and if you are in Rome you sure can attend it.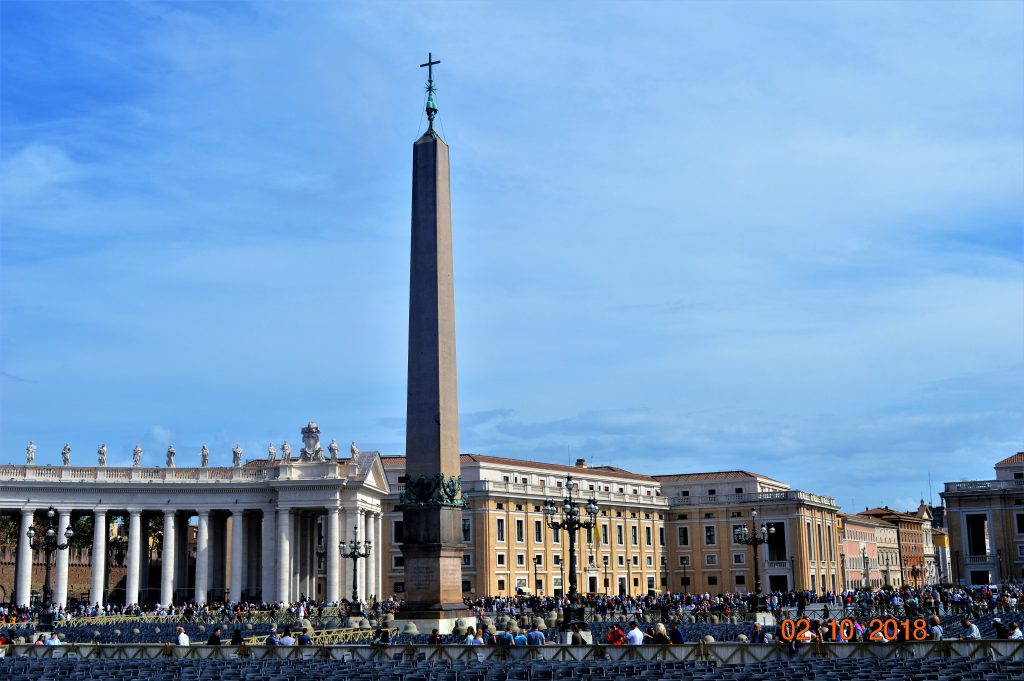 Sit on the Spanish Steps
One of my favourite place. Just go and sit on the Spanish Steps and watch the people and life pass by.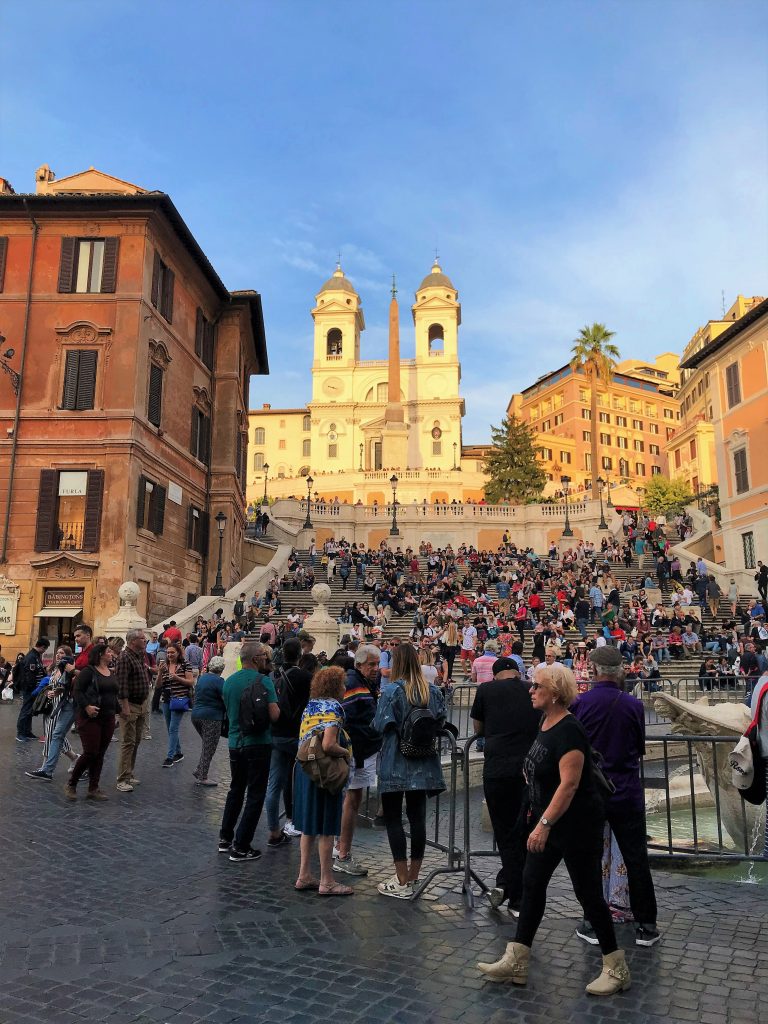 Train to Florence
Took a morning training to Florence and as the hotel was in a walking distance to Termini, it was easy to reach the station. In just about 1.30mins I reached Florence. Again, take a hotel near to the Firenza station so that it becomes easy to commute.
Pisa
Since I was in Florence just for a day, I had booked an afternoon tour with round trip transport from Florence to Pisa. In just 1 hour you'll be breathing the Tuscan air!!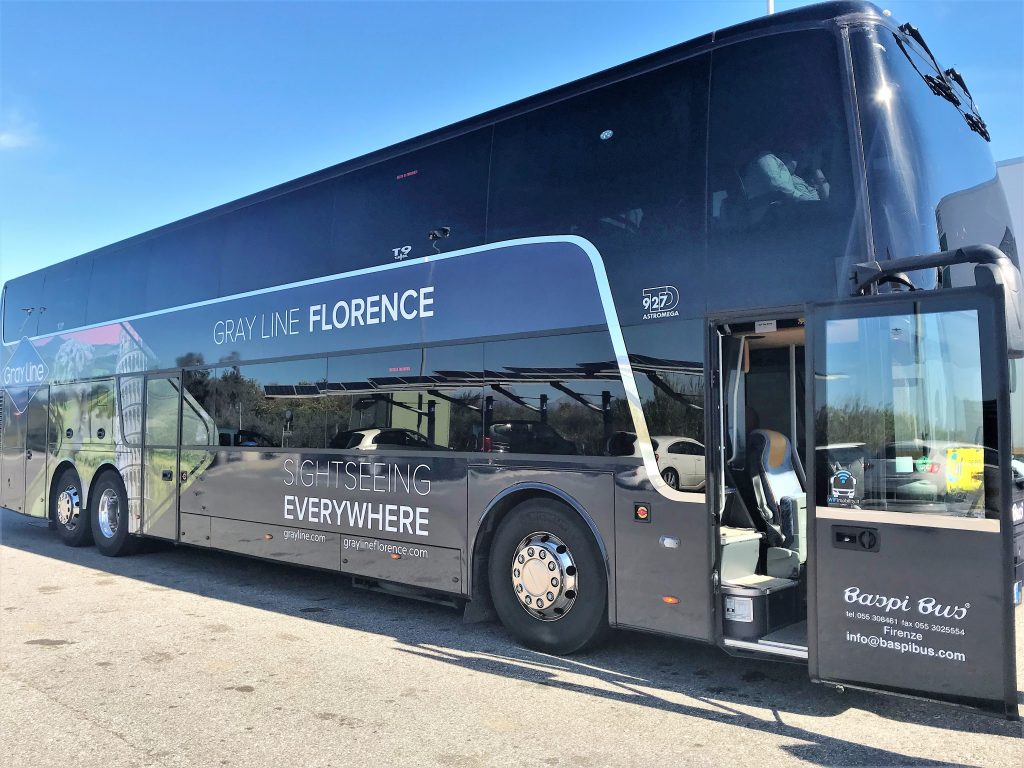 The Leaning Tower of Pisa
The main sight in the city is definitely the leaning tower. It is an impressive structure and you can even get to climb to the top of it. You'll find people pretend to push the tower pose while clicking photos. I didn't do that as I felt very funny and laughed at it.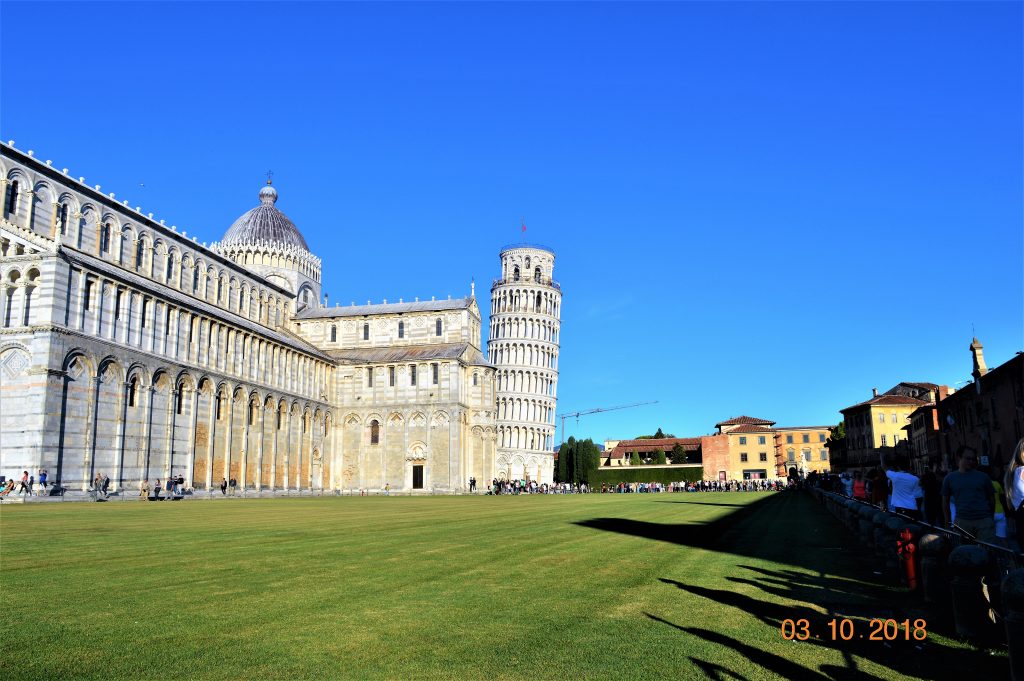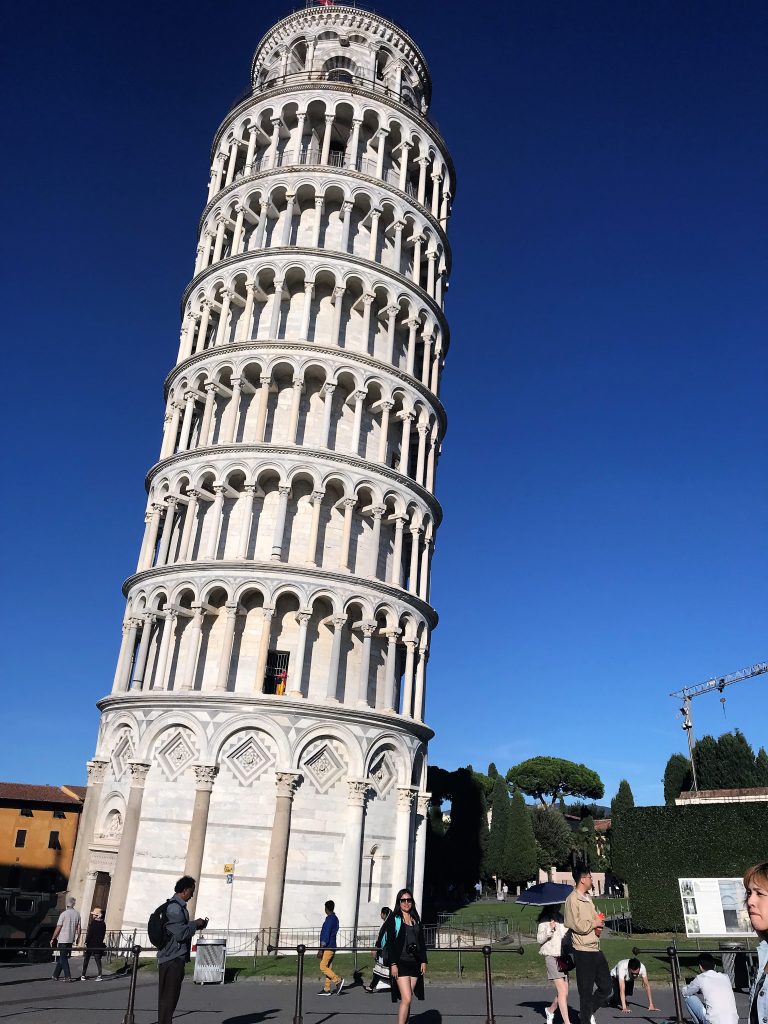 The Cathedral (Duomo)
Well… Pisa is just not about the Leaning Tower, it also has a Cathedral. Entry to the Cathedral is free, however you need to purchase a ticket to visit the rest of the sites. As our guide mentioned, in old times going inside the Cathedral was not allowed if you're not baptized, hence there is a separate building for Baptistery.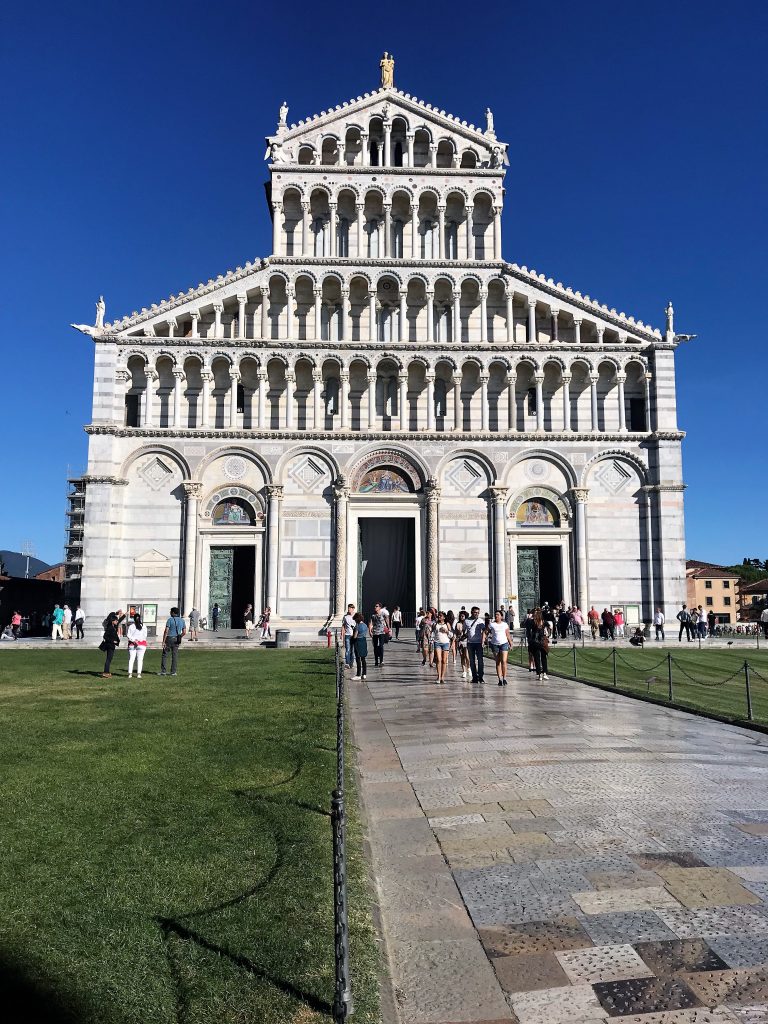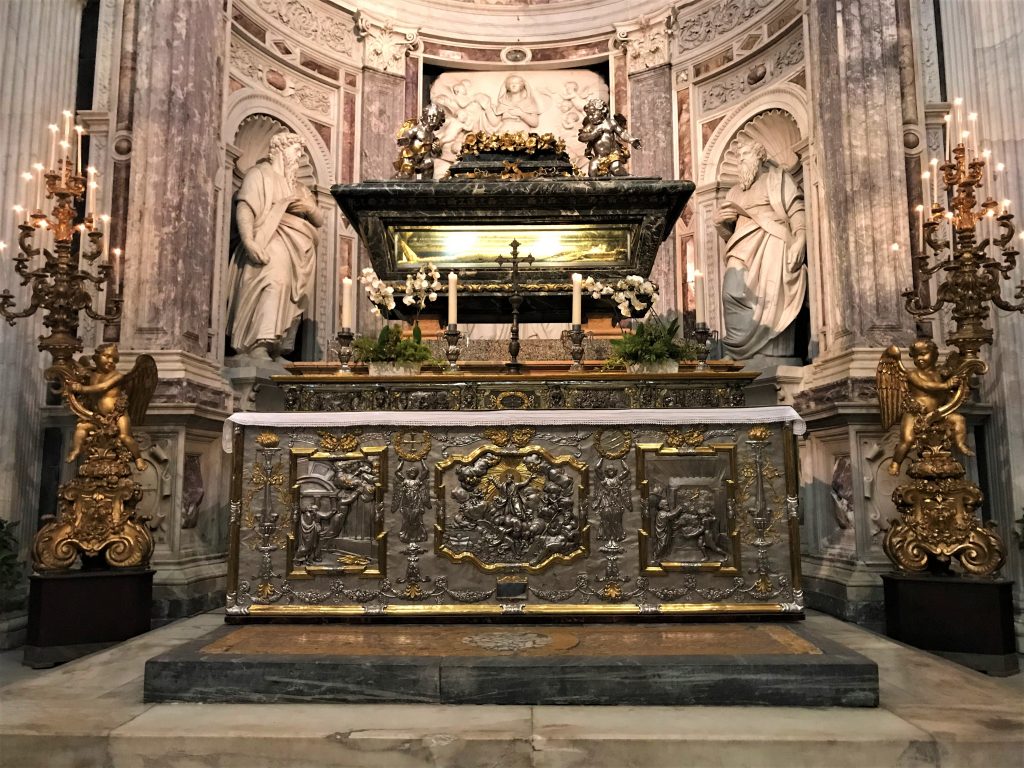 Day extremely well spent, in the evening we got together and board the bus back to Florence. Next day I had booked an afternoon train for Venice so that I could visit the famous San Lorenzo market and a lil bit of Florence city.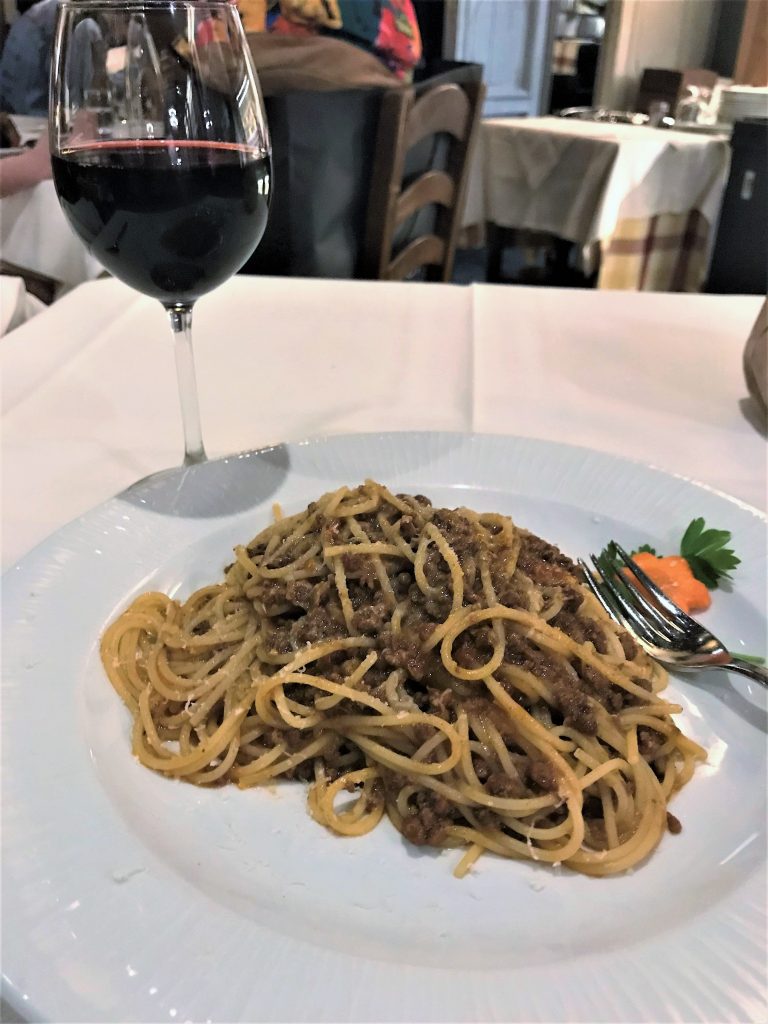 San Lorenzo Market (Florence)
This market is a must visit while in Florence. It has leather stuffs at extremely competitive price. You won't be able to resist and definitely land up buying something or the other.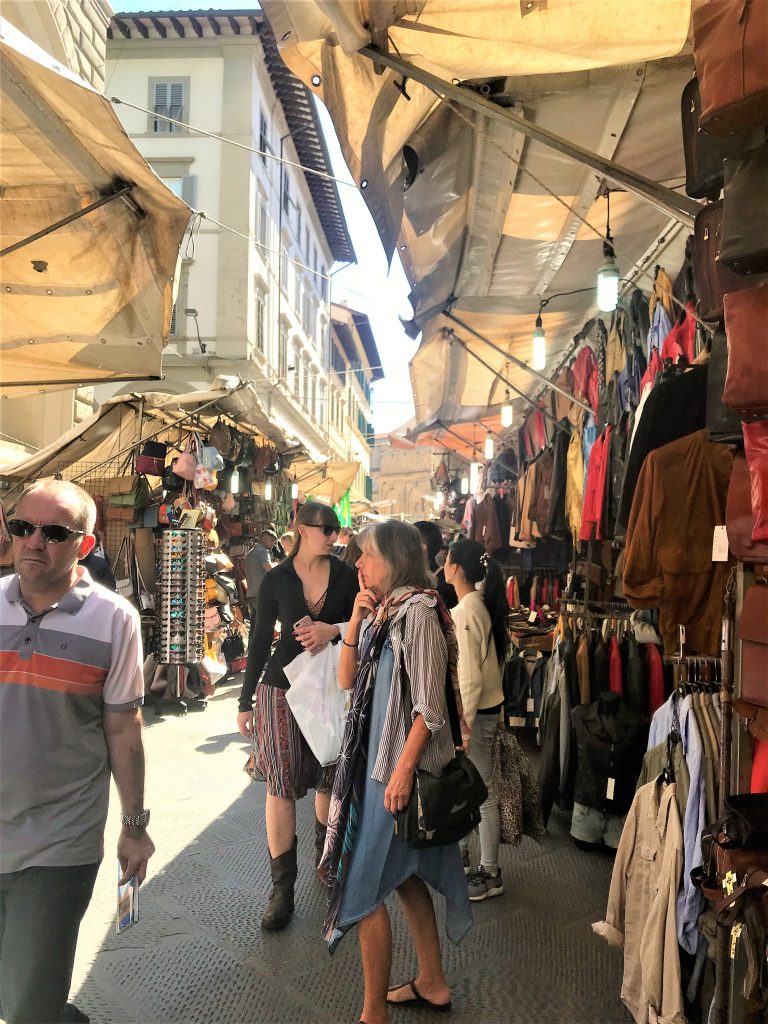 Duomo – Florence
This was one of the biggest Cathedral I've ever seen. You'll find a long line to get inside the church and for obvious reason I couldn't enter in (had a train to catch). This Gothic structure is quite a delight to the eye.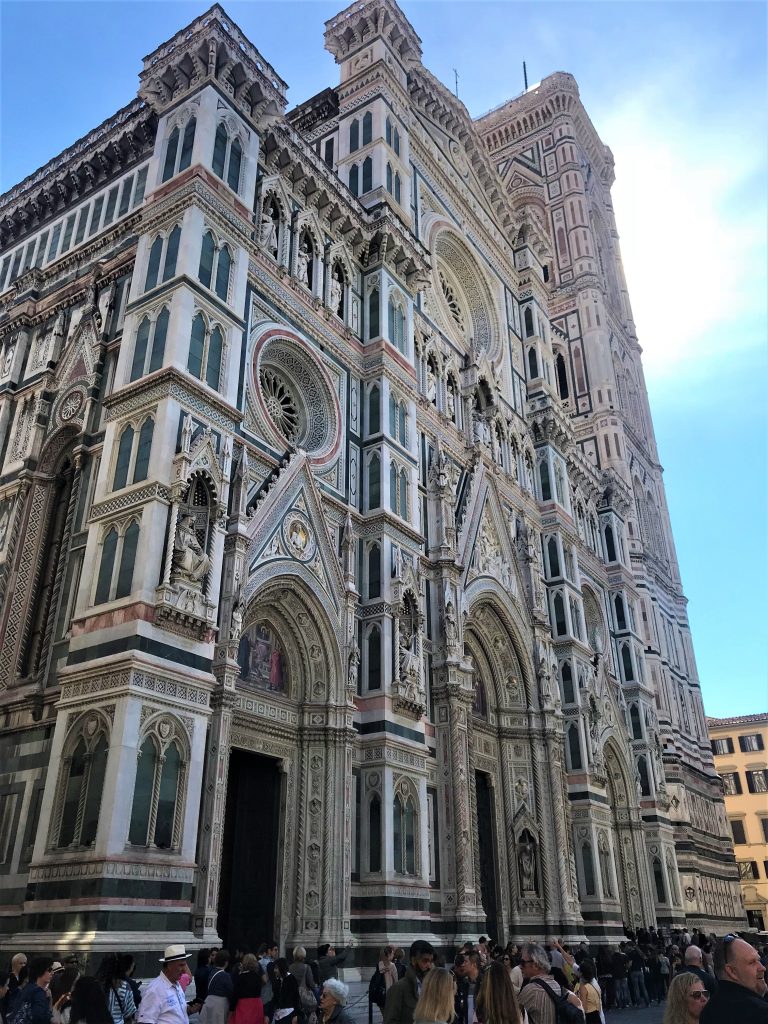 Train to Venice
In about 1 hour I reached Venice. I had taken a hotel in a walking distance to the train station. Again I would suggest to take hotel nearer to the station as it's easier to commute. There was a water boat also nearby but I preferred walking. I'm sure we know that in Venice the only way to commute is through water boat right? I even saw a water ambulance!!
Piazza San Marco
You really can't miss the one and only piazza, Piazza San Marco. There are lots of restaurants with orchestra going on and am sure you'll absolutely enjoy being around.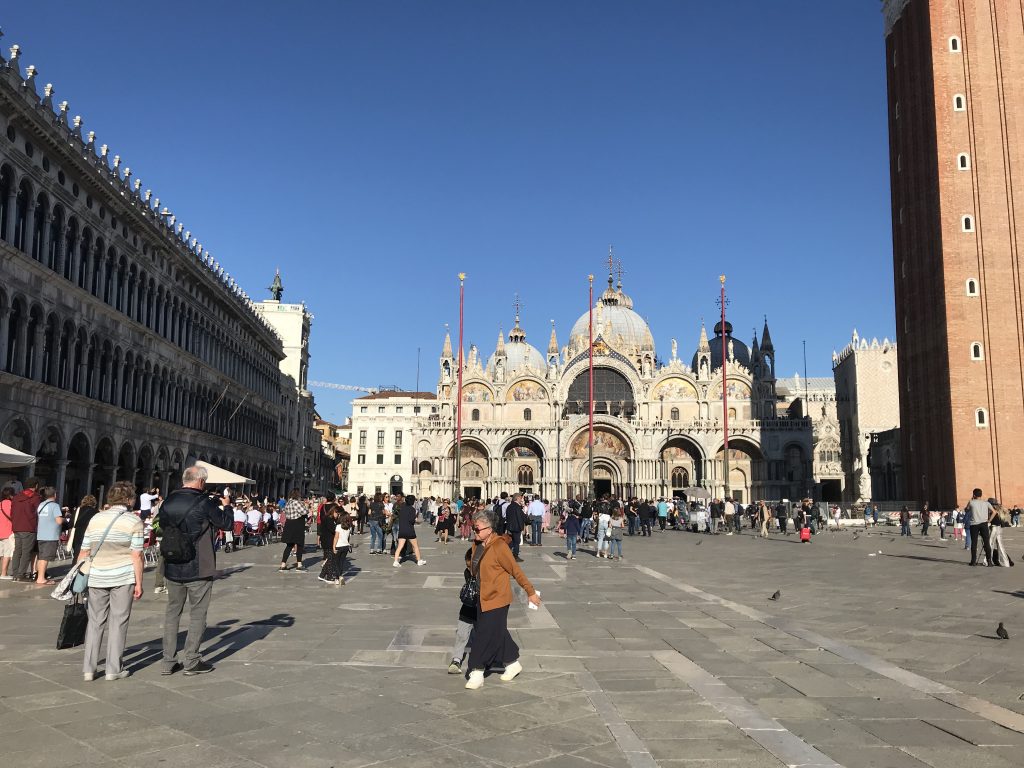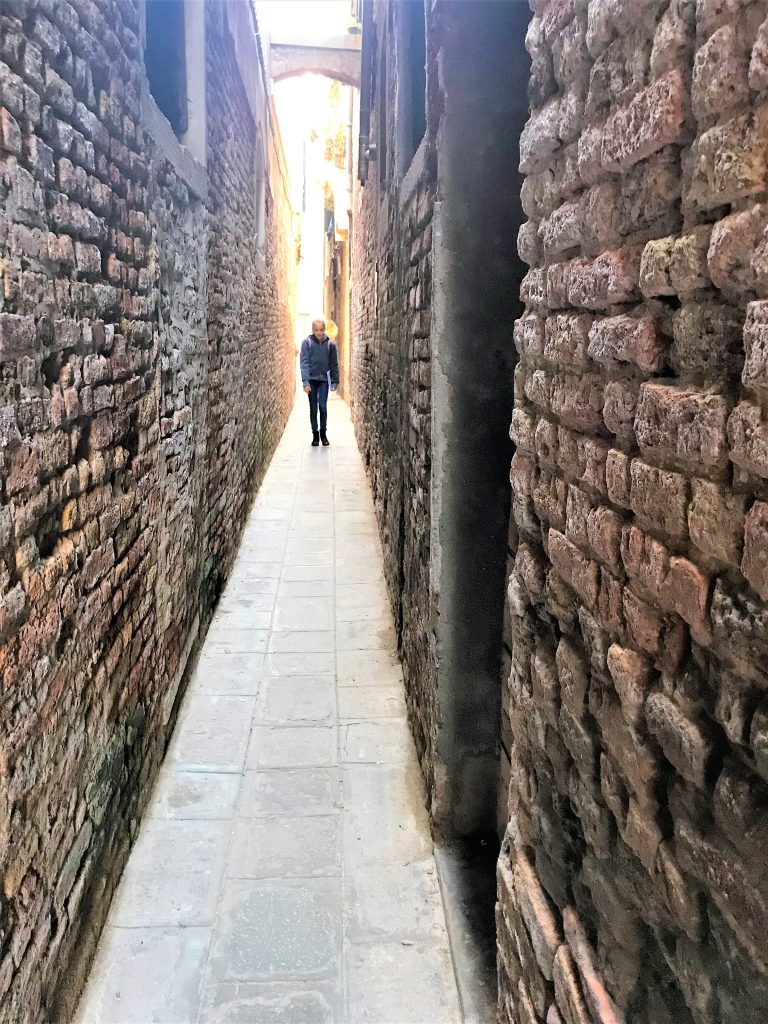 Gondola Ride
One of the most amazing experience I've had was in the gondola ride across the canals. It is a must do while in Venice. The meeting point is a place near to the Post Office in San Marco and from there you meet your guide who takes you till the gondola. Couples wanting the gondola all for themselves can hire one with a singer. It will definitely cost more but it's a worth if you want a romantic evening.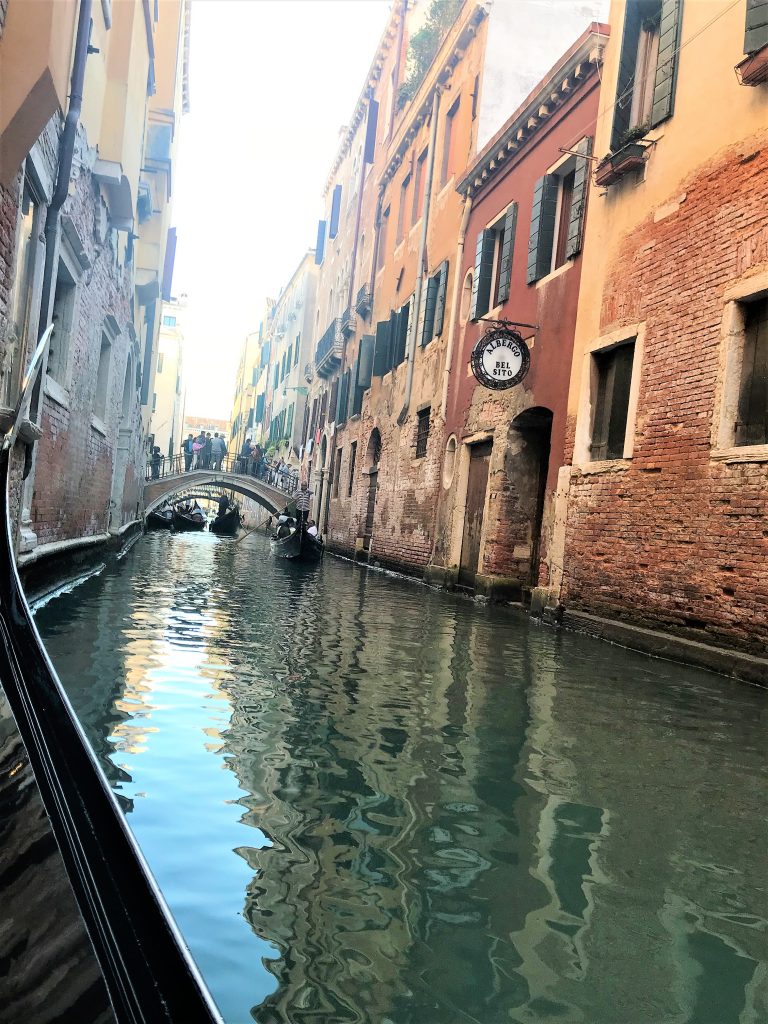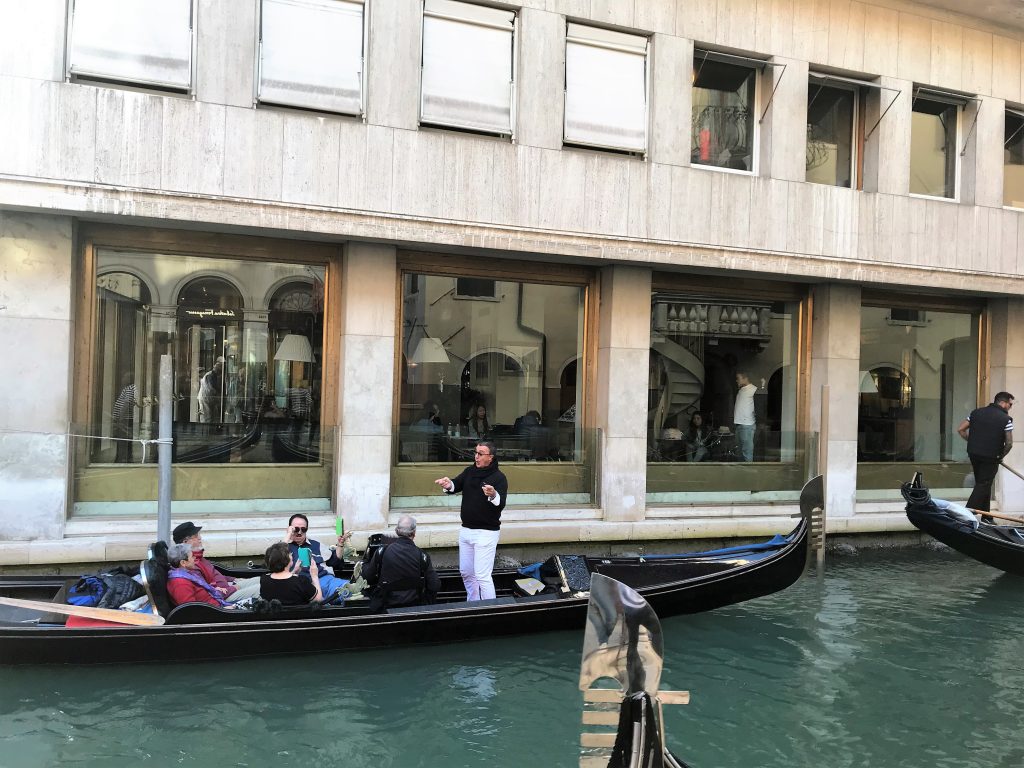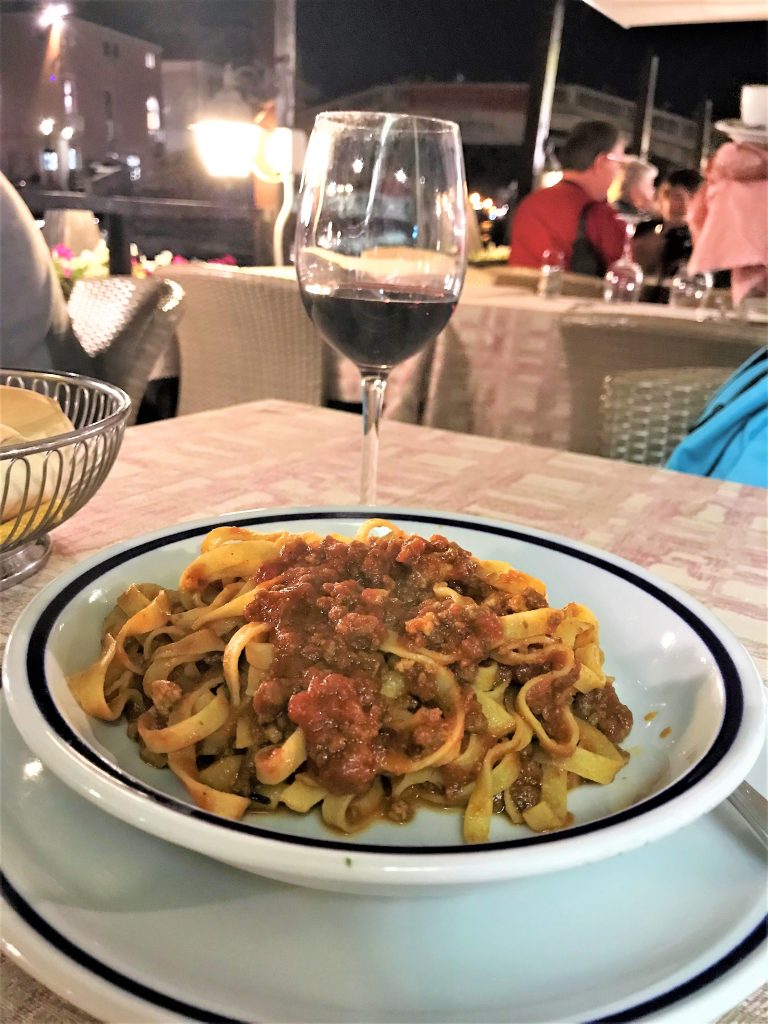 Tour to Murano Burano & Torcello
Go for a half day tour to visit Murano,
Burano and Torcello – the three islands in Venice by a motorboat. Watch the
glass being blown at a Murano glass factory, buy some lovely souvenirs. Ride to
Burano where you'll see a lot of colourful houses and the handmade lace by the local
ladies. Make sure to buy a pretty stole J Then finally you head to Torcella
which is again another beautiful island.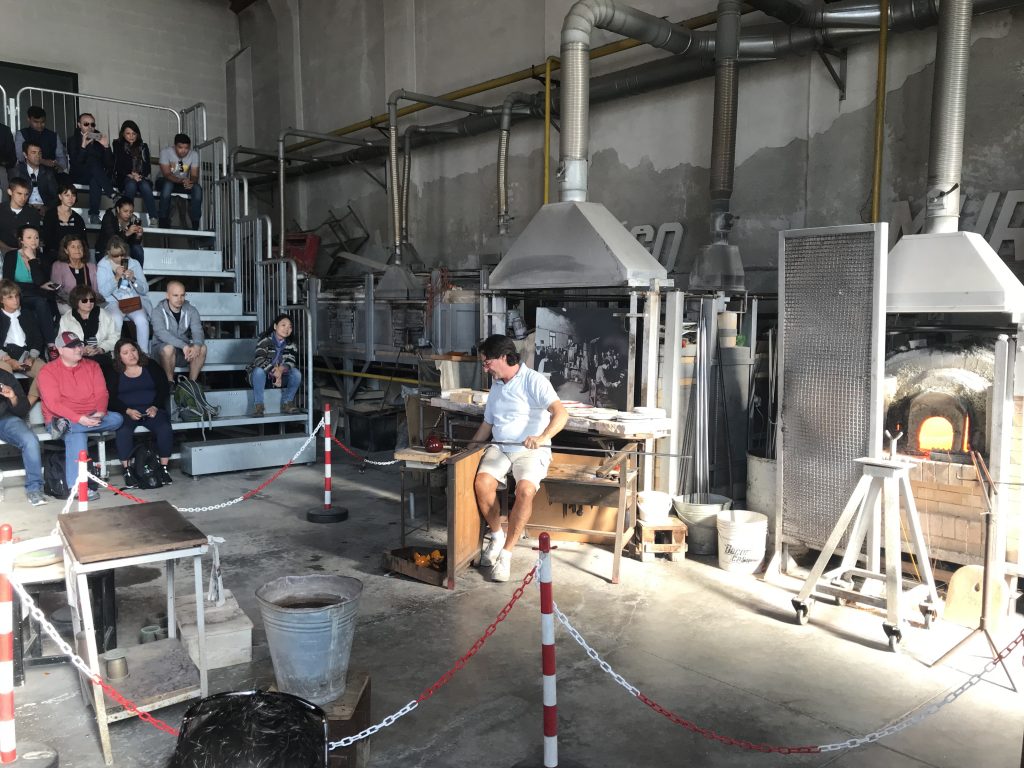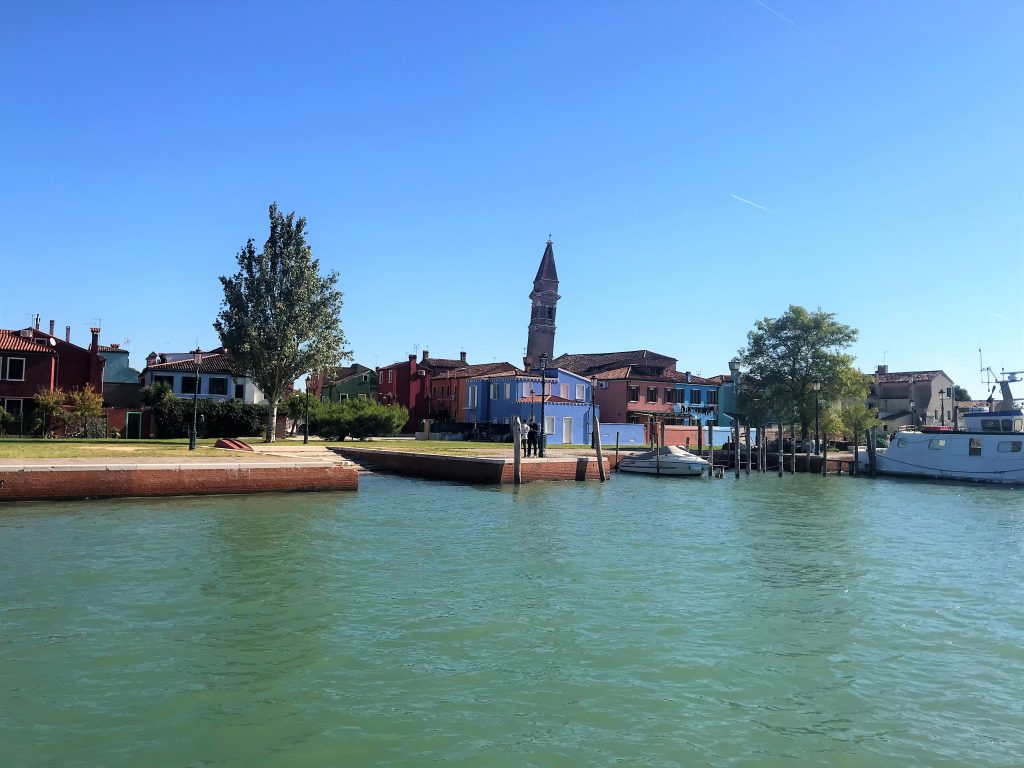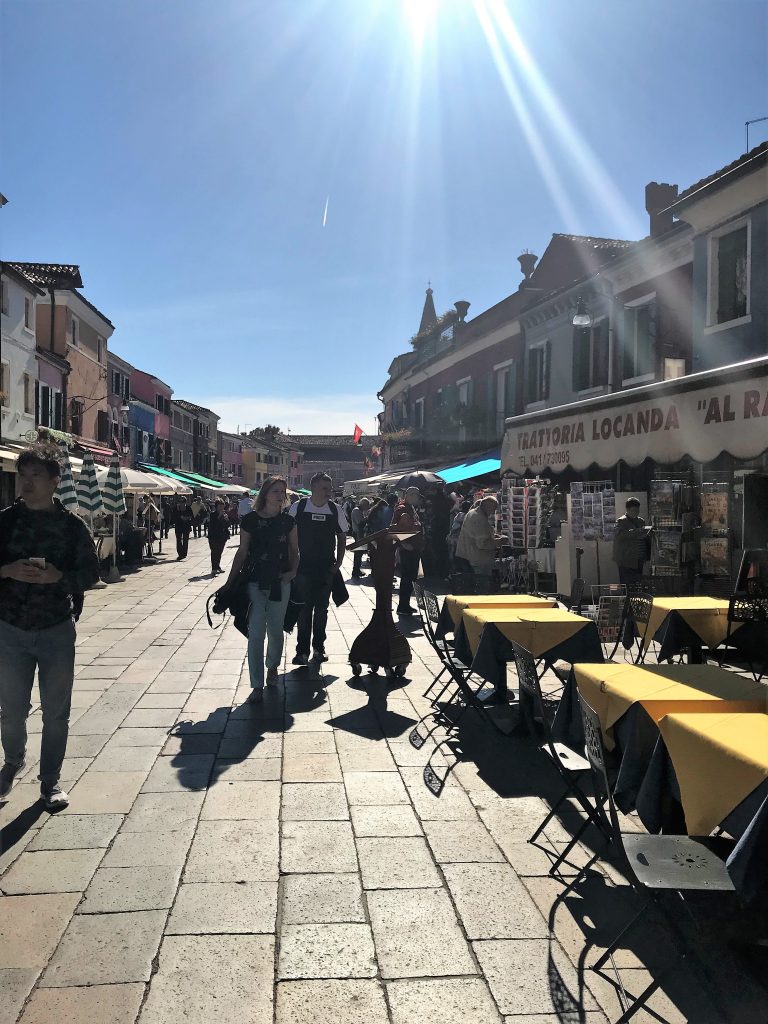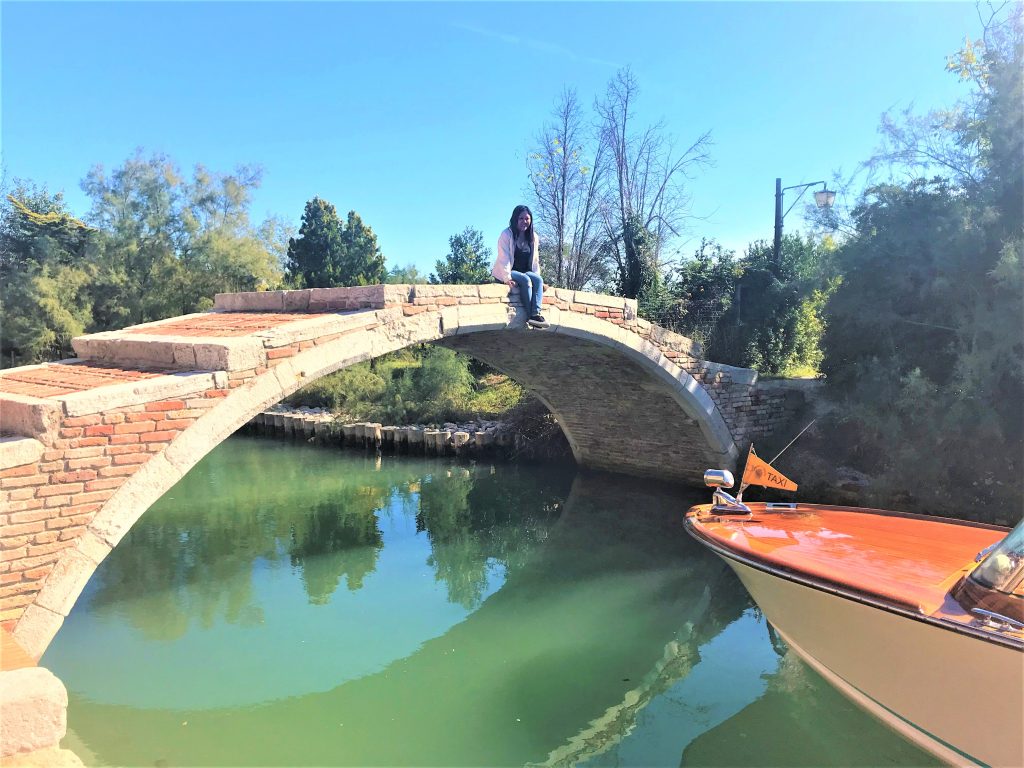 I must say, Venice is the most romantic place I've been, it makes you fall in love!!
With that my Italy trip came to an end and I took a flight to Paris. Do follow my blog on Paris.
Hope you enjoyed reading.
Cheers!!