A quick guide to Ho Chi Minh City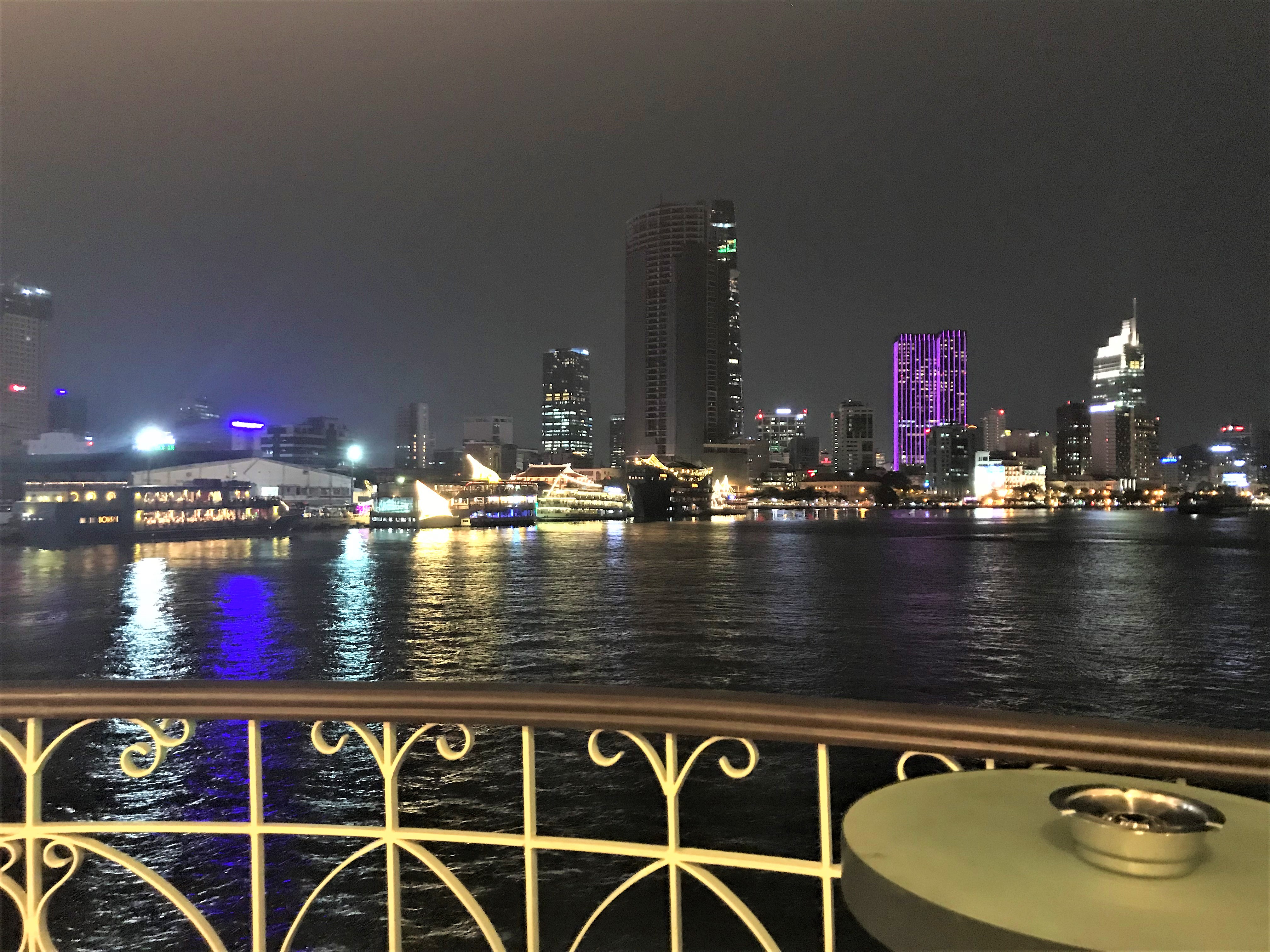 Ho Chi Minh City (commonly known as Saigon) is a city in Vietnam famous for the role it played in the Vietnam War. I happened to get a chance to visit HCMC for work. It was a 7 Nights 8 Days stay and most of the time I got to see the place was in the evening after work or the little spare time I had in hand after landing or before departure.
Places to Visit in Saigon
As I landed on a Sunday afternoon, I got a chance to visit The Central Post Office and Notre Dame Cathedral, one of the must visit places while in HCMC.
Central Post Office
The Central Post Office is a beautifully preserved building of French colonial times. The architecture of the building is worth admiring!! It has a souvenir corner inside and you can purchase the handmade paintings and other local stuffs. This place is a must visit as it's a glance at living history.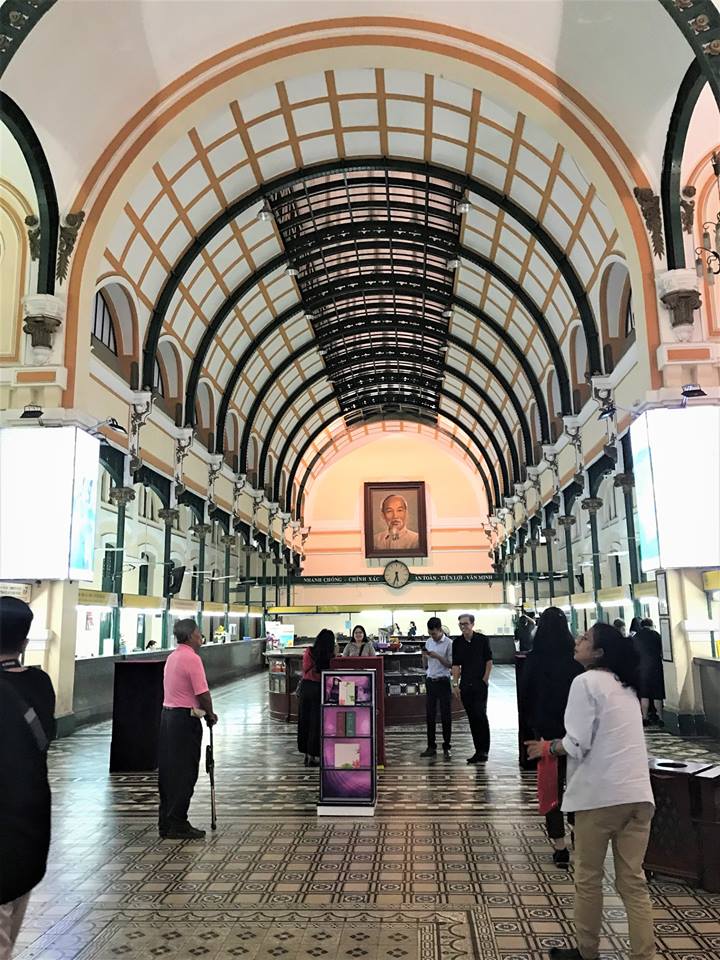 Inside Post Office
Notre Dame Cathedral
Just across the road lies Notre Dame Cathedral which is again an architecture of French times. You won't be able to enter inside if there's a sermon going on but you can definitely visit the place from outside. You can easily visit these two places together as they are adjacent to each other.
In case you want to sit in a café and look around, you can walk inside Café de la Poste which is just across the road. Sip in the famous Vietnam Coffee and enjoy the view!!
Ben Thanh Market
Next day after work I went to the night market of Ben Thanh. Very lively market with shops popping up from everywhere. Overtly crowded and noisy but if you want to buy some cheap stuffs, this is the place for you. Please do not forget to bargain. If they quote something for VND200,000, you bargain and you might get it for VND50,000. Lot of local food stalls across the line and you can hop inside any of them to satisfy your taste buds. This market caters to the tourist more than the locals. I checked with few of the locals and they are like "No way" !!
Nguyen Street
The next day after taking suggestion from my clients, I went to Nguyen Hue Street. That was a completely different experience than what I had the previous day. The pedestrian area was bordered with French colonial buildings and a luxury shopping mall. There lies the beautiful Ho Chi Minh City Hall built in French colonial style. In front of the hall, you'll see a statue of Sir Ho Chi Minh and a fountain show that happens at night. On the other end of the promenade is the Saigon River and you can enjoy the walk passing by some really nice bars and restaurants along the way. I was instantly in love with this street. It was full of life and just strolling around made me feel so happy 🙂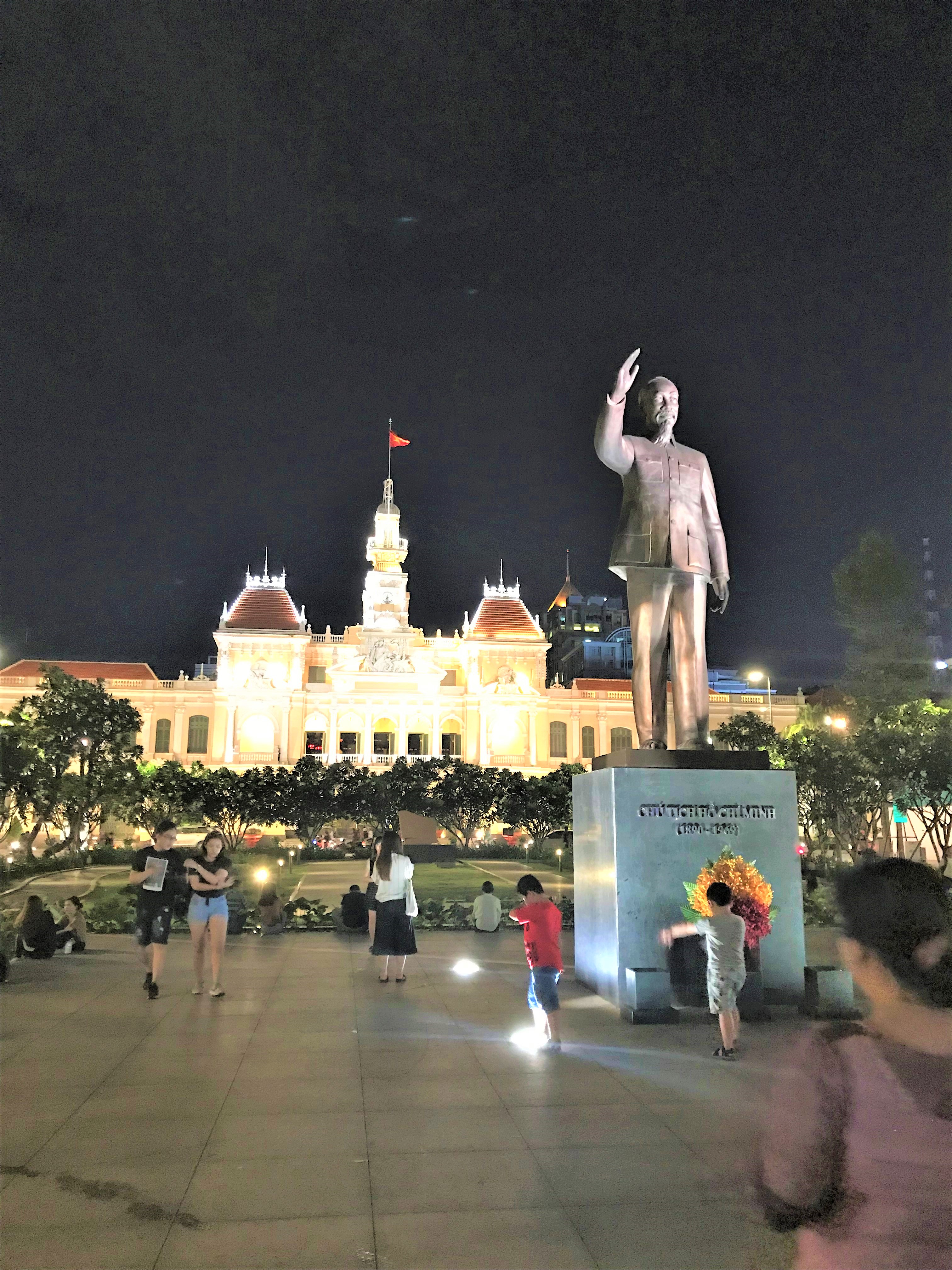 Sir Ho Chi Minh Statue
Next day again I happened to be in the same street with my client. She was nice to accompany me for some Vietnamese food. We went to this restaurant named as Wrap and Roll and there I experienced a new way of having Vietnamese food – "Wrap and Roll the Vietnamese Way". We ordered for grilled beef in betel leaves and it came with vegetable and herbs, rice paper and noodles. So my client showed the way to roll it, dip it in the sauce and yummy!! Vietnamese food has lots of vegetable and herbs, a healthy way of eating I must say. I felt it was completely different than the way we North Indians eat. You can definitely try this and am sure you'll love it.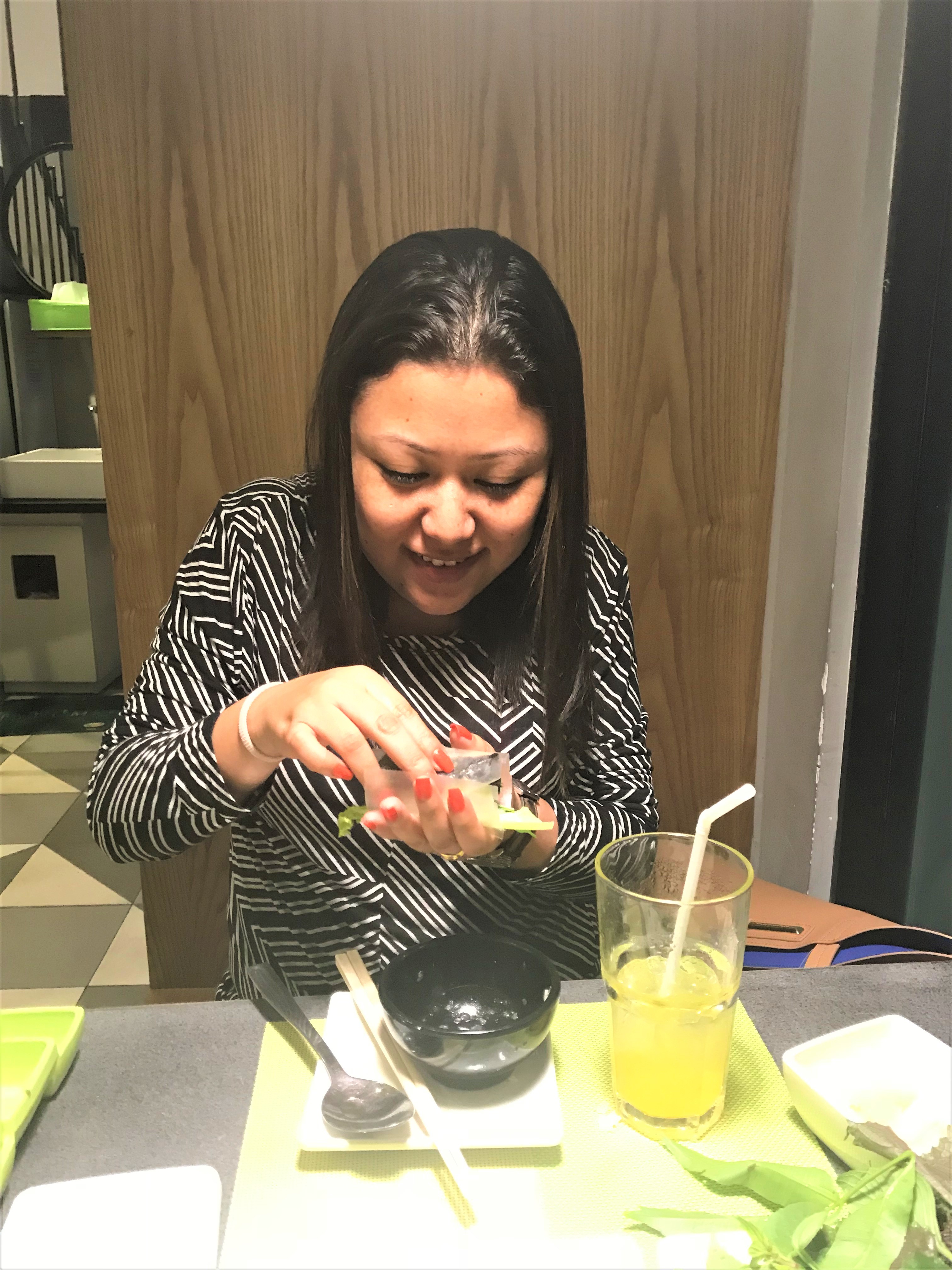 Trying to roll 🙂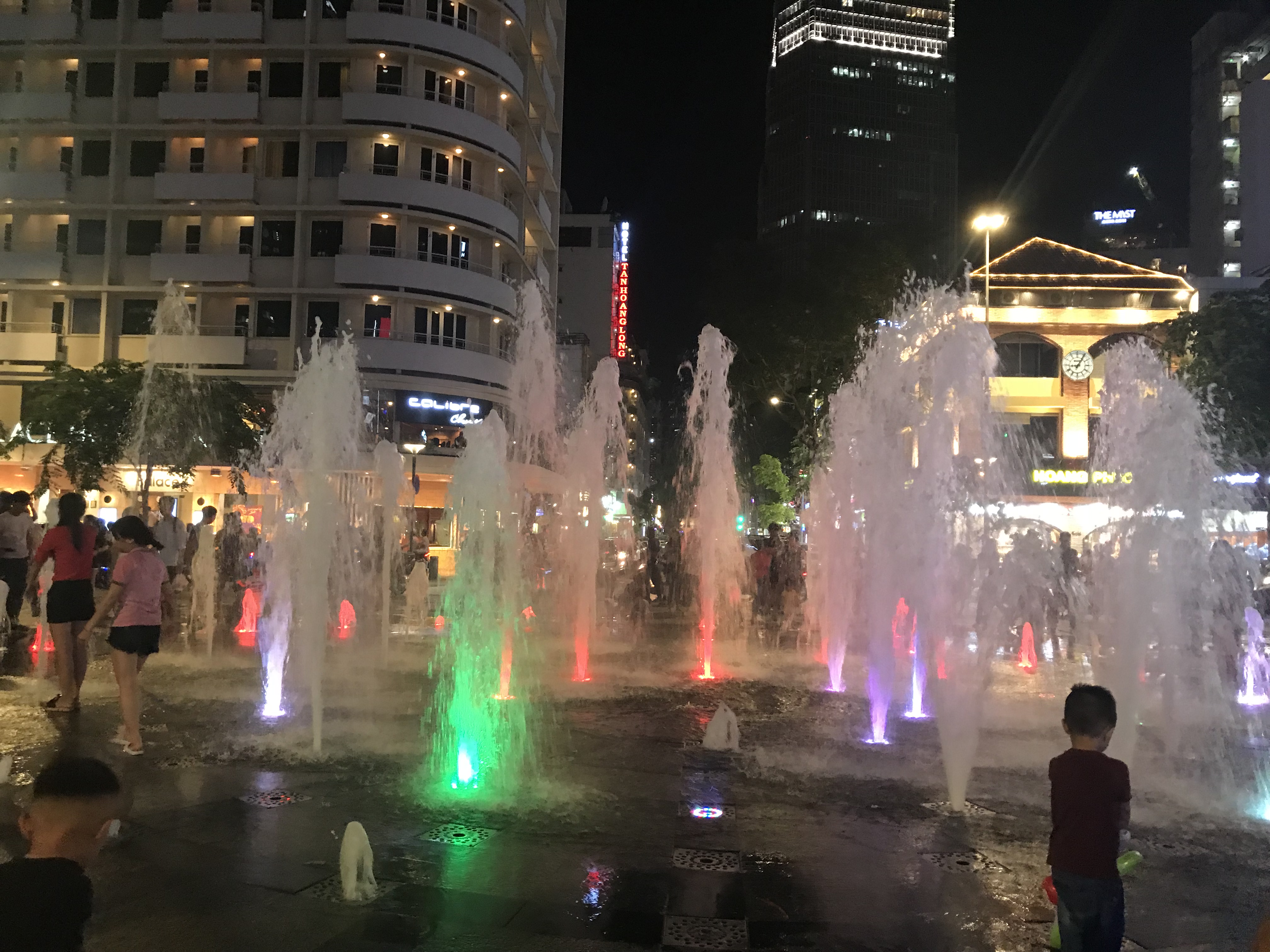 Fountain show at Nguyen Street at night..
Enjoy the local cuisine
I felt I was on a food savoring trip as I was experiencing new cuisine every day. One day my client took us out for lunch to a local Vietnamese Restaurant and again I got to experience something new. We had ordered lots of dishes but this one drew my attention. It was known as Hot Pot. Unique Vietnamese cooking style where you make your own food right at the table. To have a Hot Pot you need a pot of boiling broth which could be made of chicken, sea food, pork or beef. You will get an ingredient dishes on the side which would include vegetables or meat. So you have this pot which is always being heated by a small burner underneath it and you add the sides you've got inside it and leave it to boil. After sometime you have the cooked food with the dipping sauce. Such a healthy way of eating food I must say, no masala, no spices, at all!!
Reunification Palace
The same day evening my client took me for a city ride which I thoroughly enjoyed. Taking a ride in his motorcycle was like being "so local"!! I guess for major population the mode of travel there is motorcycle. We drove our way and I got a chance to sneak peak at the Reunification Palace. It is kind of a must visit while in HCMC but all I got to see was at night from outside the gate.
We then visited Rom BBQ & Party, a rooftop restaurant where I tried the local beer "333" and "fried frog". I was reluctant but after being persuaded for a while, I decided to give it a try. It wasn't that bad, not sure if I'm going to try again but quite an experience.
Walking Street
While dropping me back home we took a ride through the Walking Street and I secretly decided that I have to go there soon. That street was a backpacker's area with restaurants on both sides. It was vibrant and full of life. I couldn't wait to be there and the very next day after work I decided to go there and simply chill out.
It was a fun filled night at Walking Street, just strolling around, being a part of the maddening crowd!! Made myself comfortable at one of the street side pub with the local beer and the local food. I think that street never sleeps…
River Dinner Cruise
On the last day of our meeting, my client had planned for a Saigon River Dinner Cruise and I must say, it was one hell of an experience. Cruising in the Saigon River in one of the most luxurious cruise was simply mind blowing. You'll see lots of cruises on the Saigon river and most of them I saw was like a local road-side restaurant. Those were more like a club with loud dancing music and crowded. The one we were in, was exclusive as there was only 8 guests in it. Interiors of the cruise was exclusive and the band who were singing were also pretty nice. Good performance overall I must say.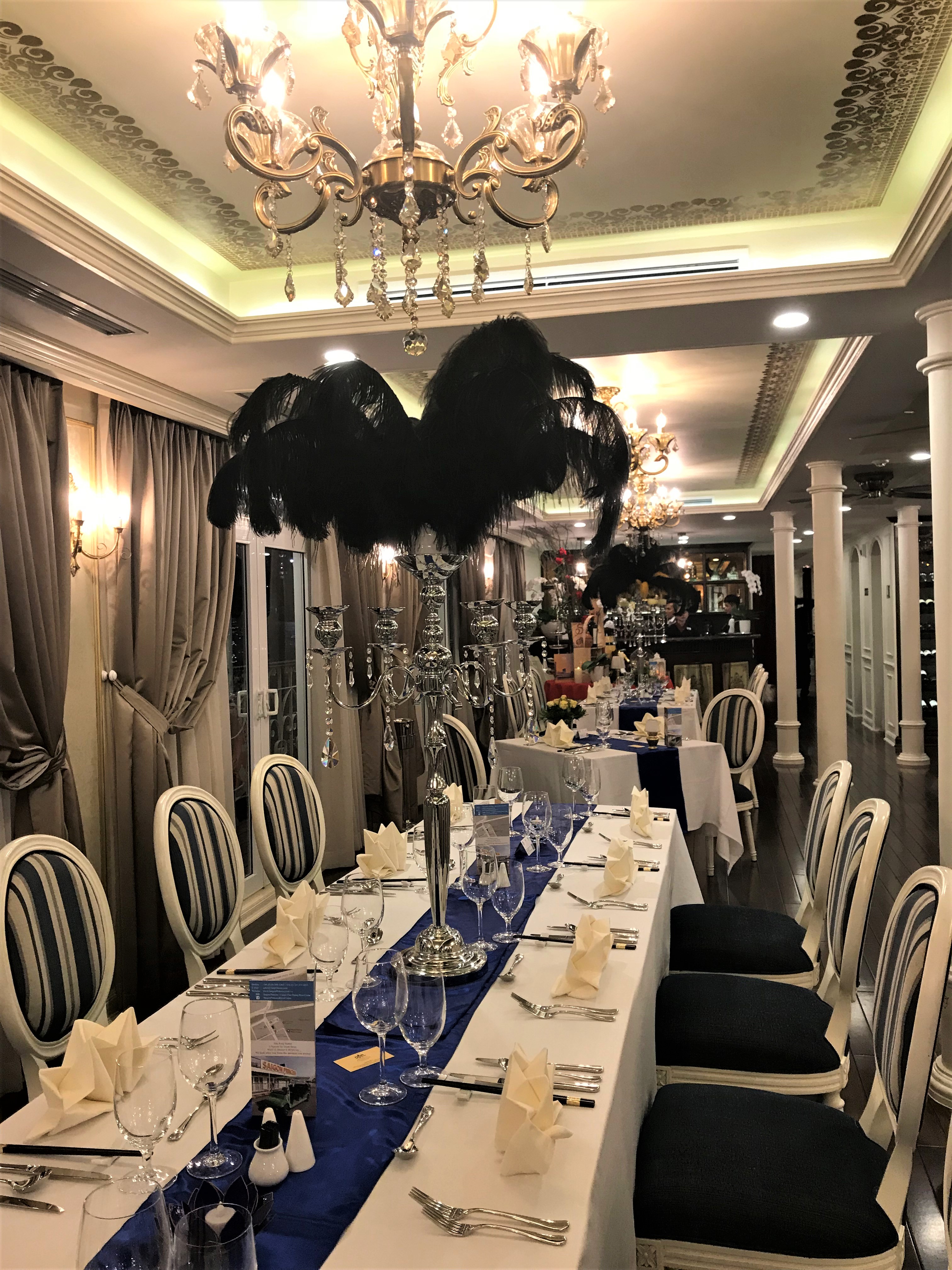 Cruise interiors!!
The dinner that was served was like a 5-star preparation and the taste was equally good. You sip a wine with it and it was PERFECT!!
Chu Chi Tunnel
On the last day, since my flight was in the evening at around 8PM, I had booked a trip to Cu Chi Tunnel. It is one of Ho Chi Minh City's most iconic attraction. The half day tour cost might range from VND 500,000 upwards. I had taken a small group tour with 10 people and the cab came to pick me up at 8:15 AM. We then picked up the rest of the members on the way and headed towards our destination with our guide talking about the history. On the way we took a halt at the factory where the talented disabled artists make the beautiful handmade paintings. It was a nice piece of art.
Cu Chi tunnel was out of the box experience. I was amazed to see those traps and rat holes. You can crawl through the narrow tunnel, choose to take a 20m, 40m or 60 metres crawl. I choose 40 metres crawl and the moment I entered, I was like OMG!!!! I wonder how those people lived there for years… Crawl in the tunnel was quite an experience. People who are very tall or is claustrophobic should think before entering. However, this is a must do activity if you visit Cu Chi Tunnel.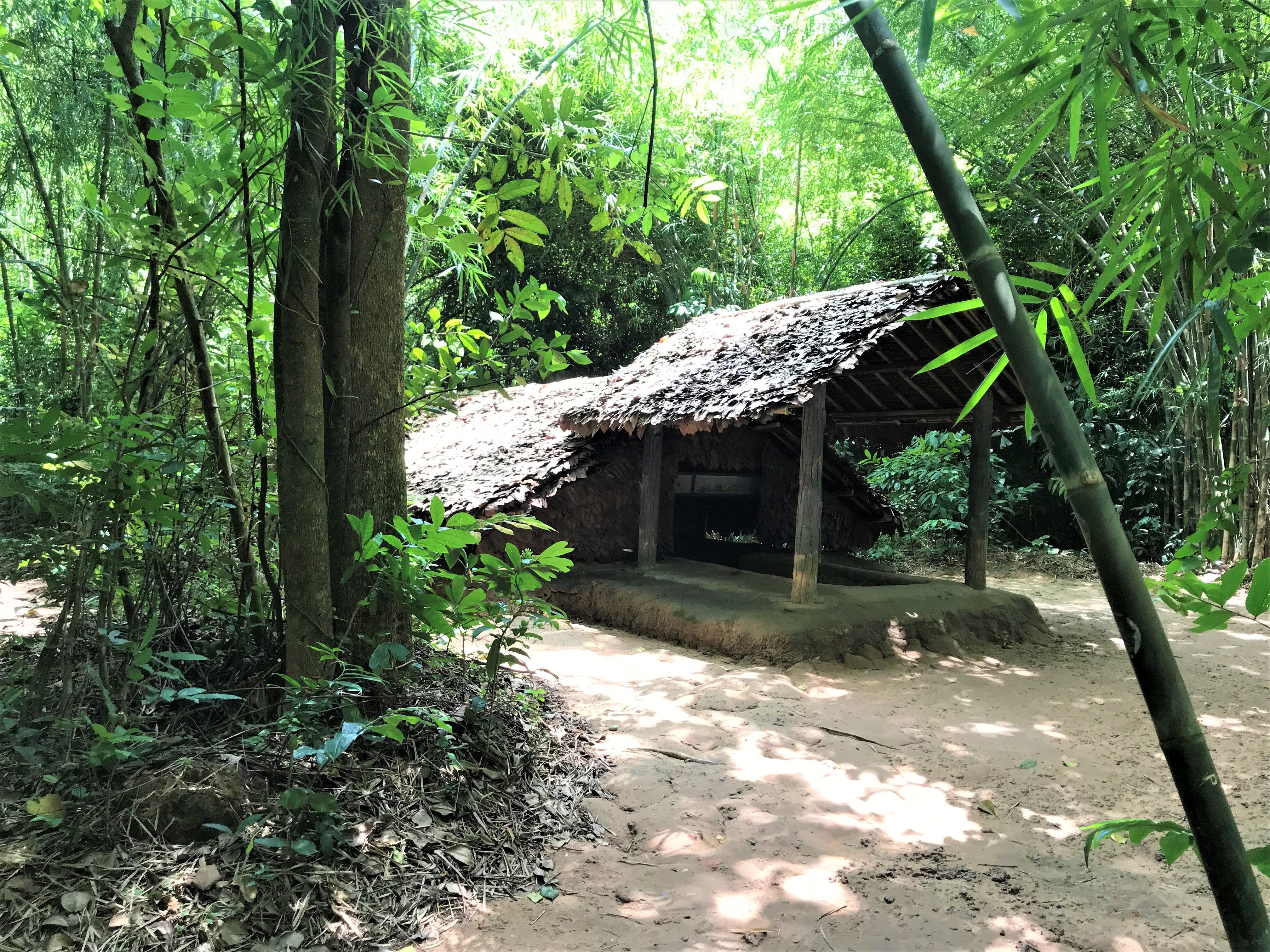 The tunnel talks about the story that happened years back in the Vietnam War with France. It talks about what they did to survive. In the end survival is all that mattered and you can see the intent of the people to survive and what all they have done for it. It was a remarkable work I must say by the soldiers.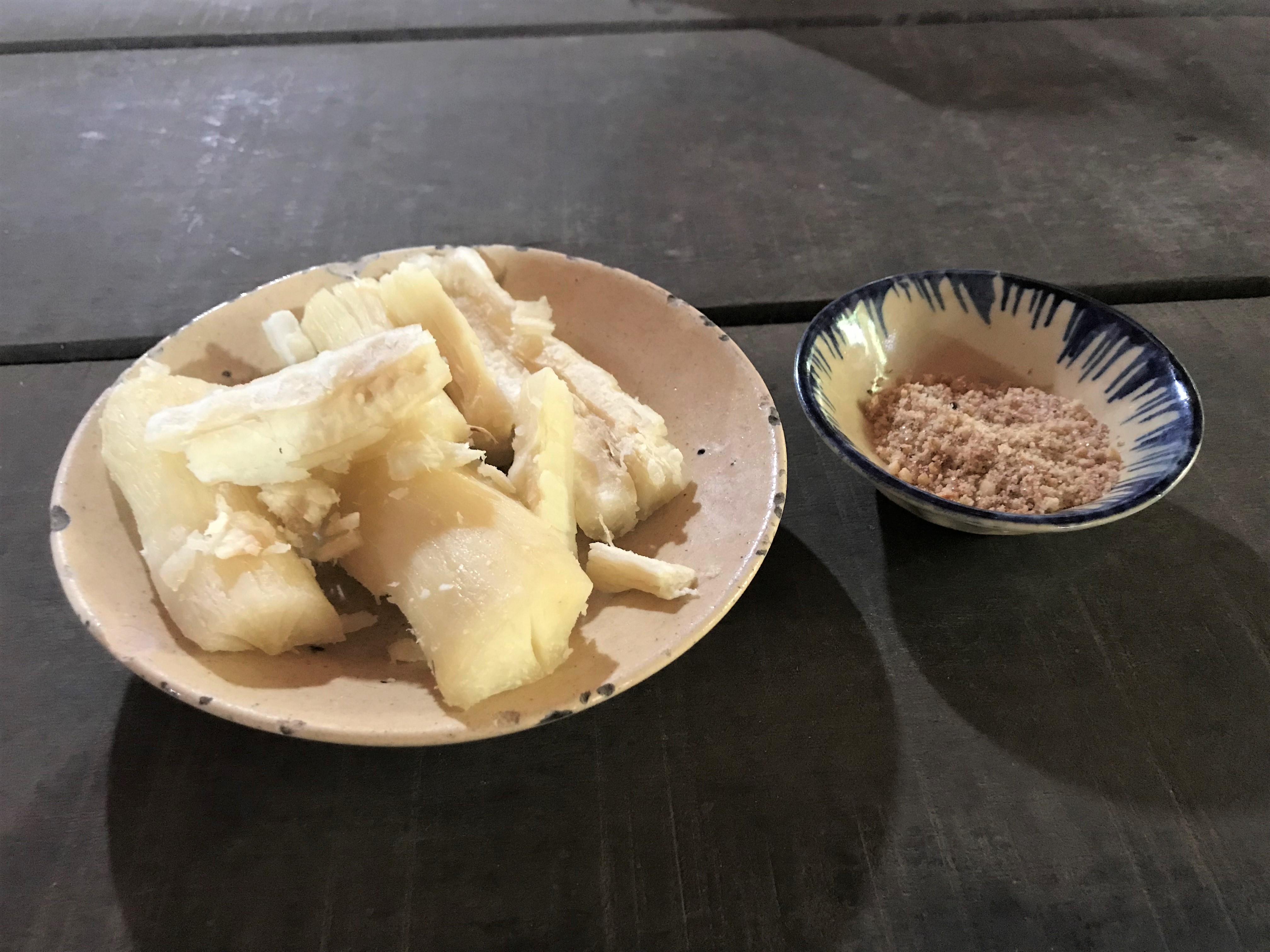 That was a goodbye snacks (whatever that is called) provided before leaving the tunnel!!
There ended my trip to Ho Chi Minh City as I boarded the flight in the evening back to Delhi. I must say it was mostly exploring new culture, savoring new cuisine and experiencing the city with vast historic impact.
Hope you enjoyed reading.
Cheers!!