Weekend in Pushkar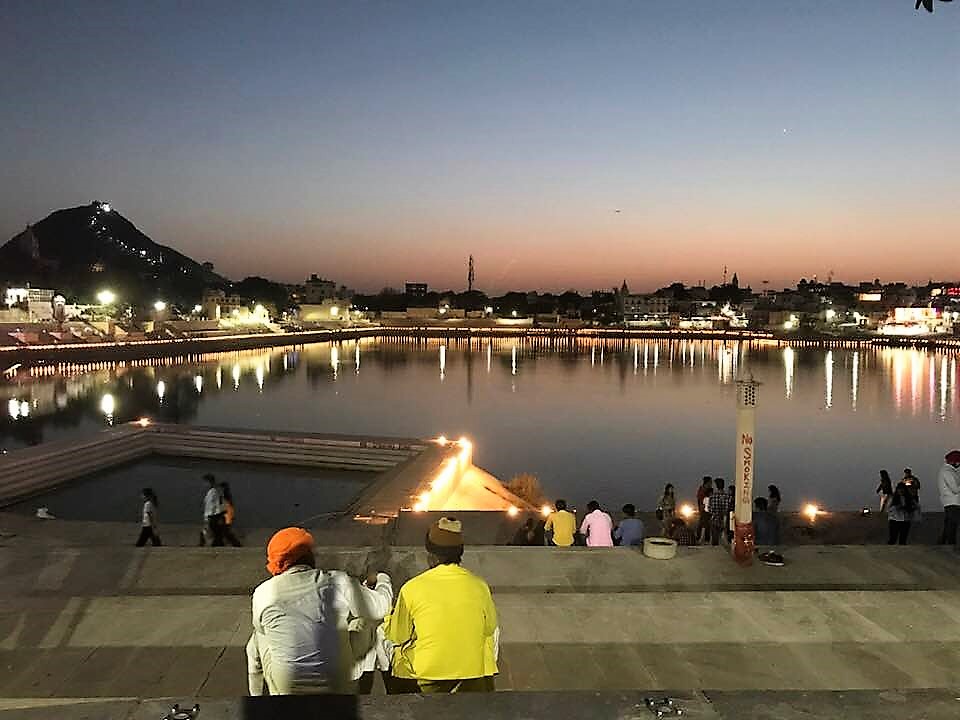 It was on a long weekend of Good Friday that I planned to visit Pushkar. Traveling from Gurgaon to Pushkar is pretty easy. You can take an early morning train to Ajmer and from there catch a taxi. So I had booked Shatabdi which departs at 7:00AM and reaches Ajmer around 1PM. The travel time in Shatabdi is the shortest, just about 6hours. Highly recommended to take this train as it's very comfortable and time saving. One way in Shatabdi will cost you approx. Rs1000. From Ajmer you can hire Ola which might cost you between Rs400-Rs450. I took a drop to my hotel as I had already booked Treebo Pushkar Legacy for 2nights. I have always liked Treebo hotels as they are very economical and at the same time very comfortable. This one costed me about Rs3800 for 2nights. Hotel is in a good location, walking distance to Pushkar lake and multiple cafés nearby.
After reaching the hotel and relaxing for a while, I moved out to visit the Pushkar lake in the evening. Just opposite the lake is Sunset Café, an amazing place to sit and relax and watch the sunset. The lake side setting is perfect for the traveler to sit and enjoy the evening as the sun makes its way for the moon!!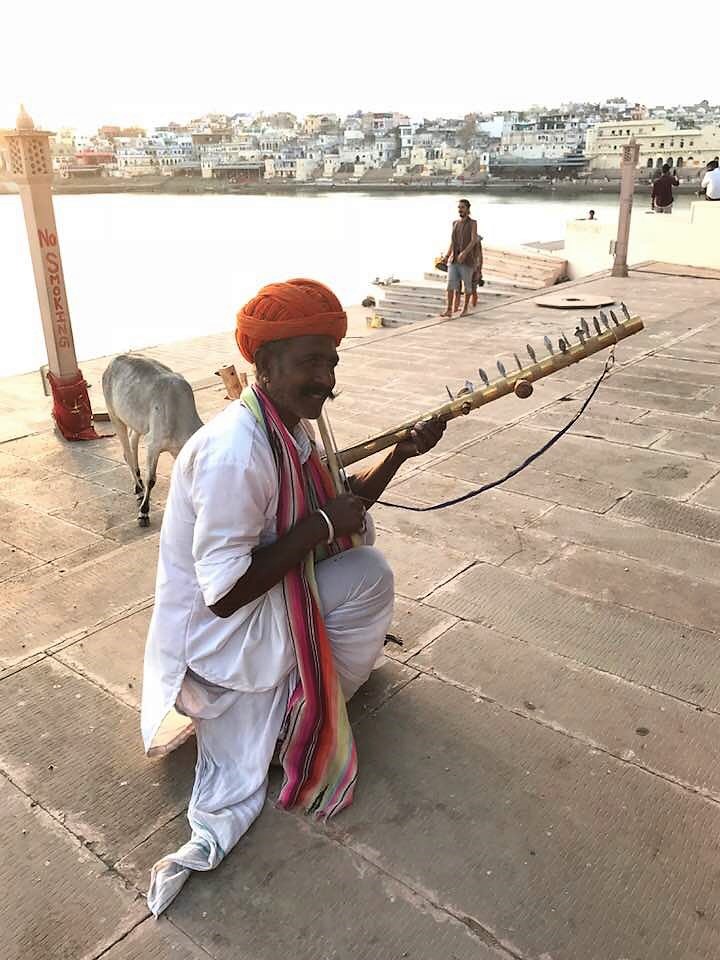 Man playing Ravanahatha
Pushkar Lake
Pushkar Lake is a most prominent spot of pilgrimage for Hindus. It is encircled by lots of temples and ghats and definitely draws attention of not just the Hindu devotees but also the people from all across the globe. It is believed taking a holy dip in the ghat to be auspicious for the Hindus, hence people visit this place for purification.
Besides being a holy place, this lake has its own charm. It is a tranquil little lake which looks vibrant and peaceful at the same. It is a must visit place to watch the sunset. The lake is surrounded by temples and in the evening when the light is on, it looks breathtakingly beautiful. You can sit in the stairs which leads to the ghat and enjoy the atmosphere. I would also like to say that I felt the ratio of human being and cows on the street was almost similar 😛
What you see is something that I cannot explain in words… You have to be there to experience it!!
You can visit any of the cafés as Pushkar is surrounded with lots of it. Café's to try would be "Little Italy Pizzeria", nice rooftop café for Italian Food. You can also go to Honey & Spice for breakfast. Try Funky Monkey Café for Israeli food. Go to Om Baba Rooftop Restaurant for drinks, it has the lake view. Definitely try Tibetan Kitchen for momos, thukpa, noodles… I visited all of the above mentioned cafés hence I can recommend them as they all are equally good. However, there are no limits to the number to café around.
Next day early morning I had planned to go for a Yoga session to Pushkar Yoga Garden. They conduct a drop in class of 1.5hrs for Rs500. Yogesh, who is the Yoga instructor conducts the session and I must say is pretty effective. People who wants to start the day with yoga can drop in for the session. Session starts at 8:30 AM to 10:00 AM.
It was a great start of the day. After the yoga session I again visited couple of cafés for drinks and finally settled at Tibetan Kitchen for lunch.
Camel Desert Safari
Post lunch, after relaxing a bit at the hotel, my evening was planned to go on a sunset camel safari. I booked Dharma Camel Safari and the guy came to pick me up at the hotel around 4:30PM. Reached the point from where the safari starts… initially I was a little scared to take a camel ride so I opted for cart. After a while, I thought I should try to sit in the camel too!! Gathered strength and climbed on it 🙂 Yayyy!! Glad I did it 🙂
It was a superb experience!! Am glad I did it else I would have missed all the fun. It was really exciting and enjoyable to sit in the camel and take a ride. After a while we reached the sunset point. There were lots of camel and people who were visiting this point to watch the sunset in the desert. There were locals playing Ravanahatha instrument and singing & dancing!! You can pay them some bucks and enjoy their songs… Wait till the time the sun goes to bed as that's the most exotic sight you can see. Get on that camel once you're done and take a ride back to the drop off point. Sunset camel ride was for Rs500 but since I opted for cart he charged me Rs600. I would say definitely worth it.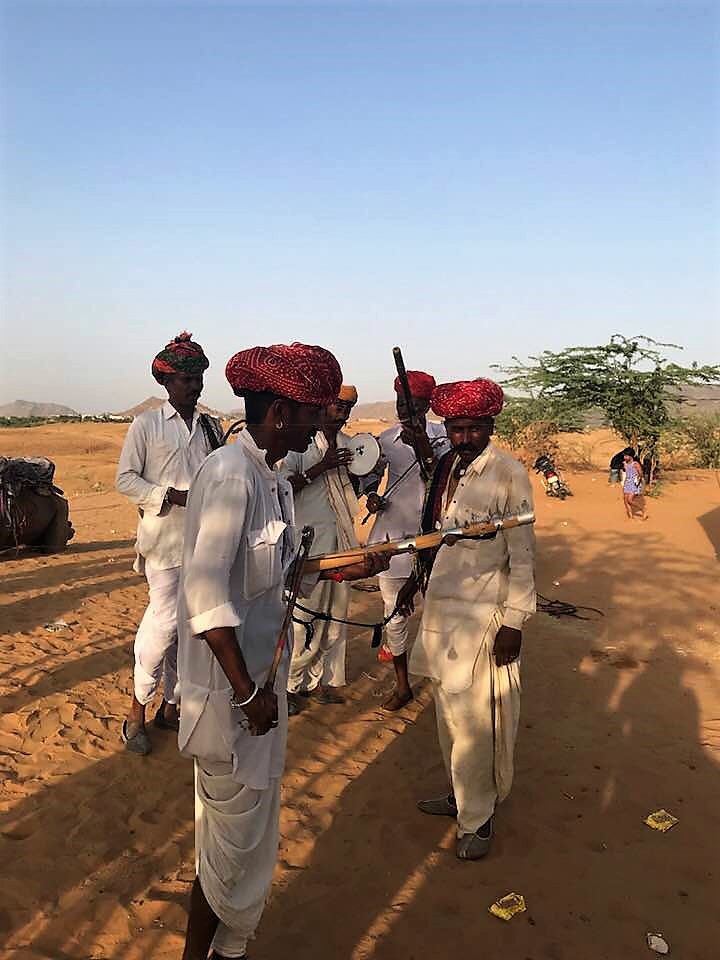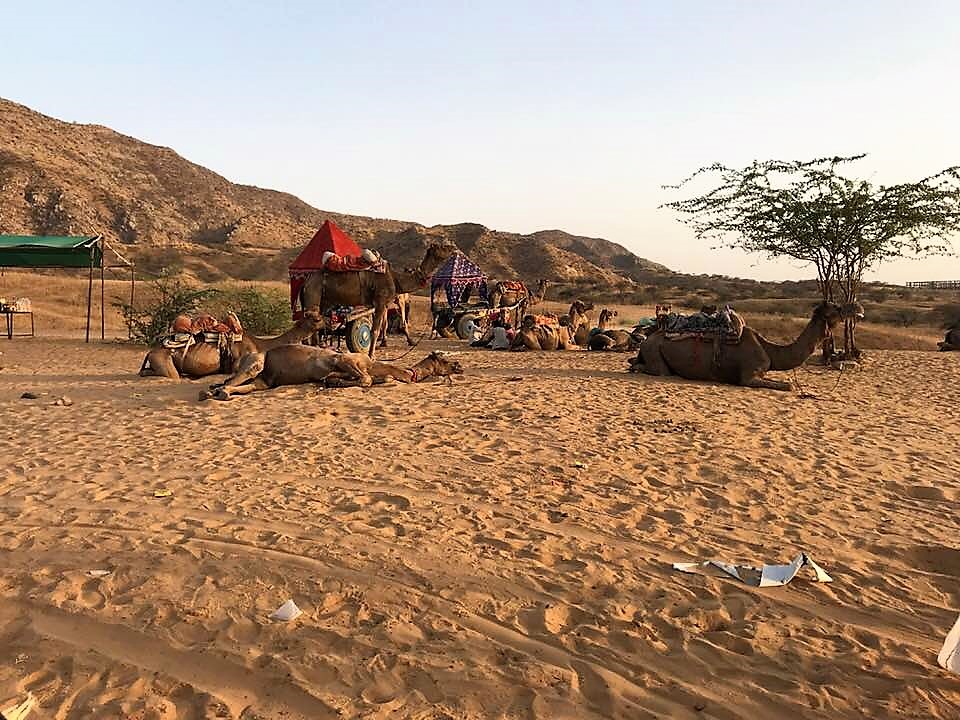 I asked the guy to drop me back to Funky Monkey Café for dinner. Had a sumptuous Israeli food and walked back to the hotel.
That was the last night in Pushkar and I was traveling back to Gurgaon the next day. I had a lazy morning, packed my bag and dropped it in the lobby and walked to the market to visit few of the café's. Did some café hopping, and went again to Tibetan Kitchen for lunch as I loved their momos!!
At 2:30PM I left Pushkar to catch a train which departed at 3:45PM for Gurgaon. As every good thing comes to an, this one also did. However, it was an excellent 2days spent extremely well.
Few things to remember
Pushkar being a holy place, alcohol is not served openly. You won't find it in the menu of any of the café's, but that doesn't mean you don't get to drink. You need to check with the waiter and they might provide you secretly, but not openly.
Non-veg is not served too. You have to live without non-veg till the time you are there in Pushkar.
Pushkar is such a small place, you can easily cover on foot. Do not miss the Pushkar Bazar as the visit would be incomplete without strolling in the market. The entire street is full of shops, make sure to bargain.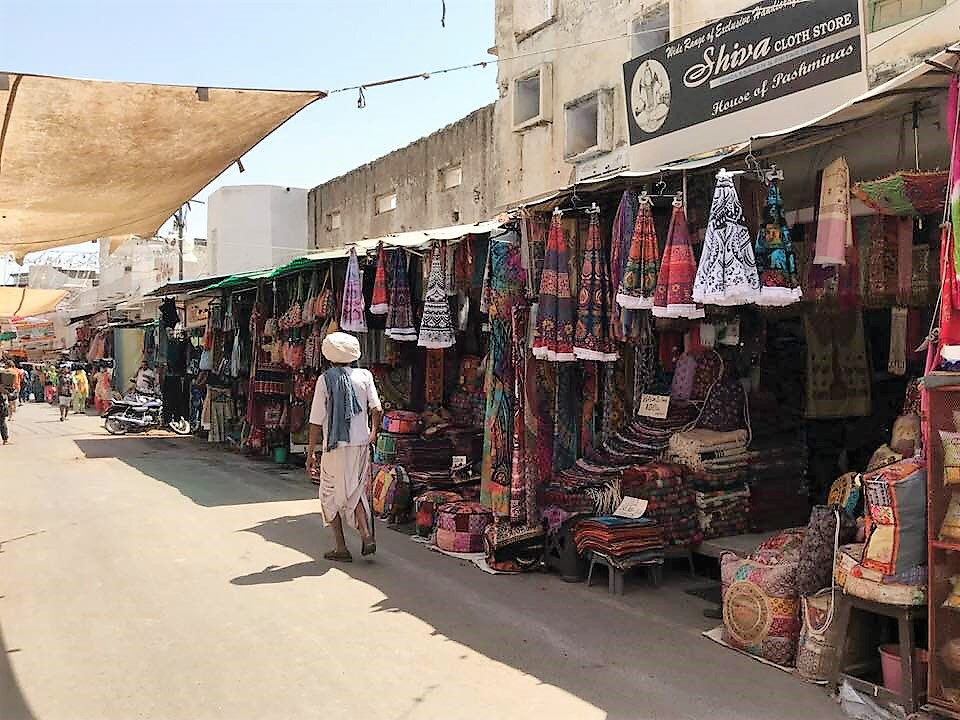 Overall a good experience, apt for a quick visit.
Hope you enjoyed reading
Cheers!!