Bhutan!! There's something magical about this place…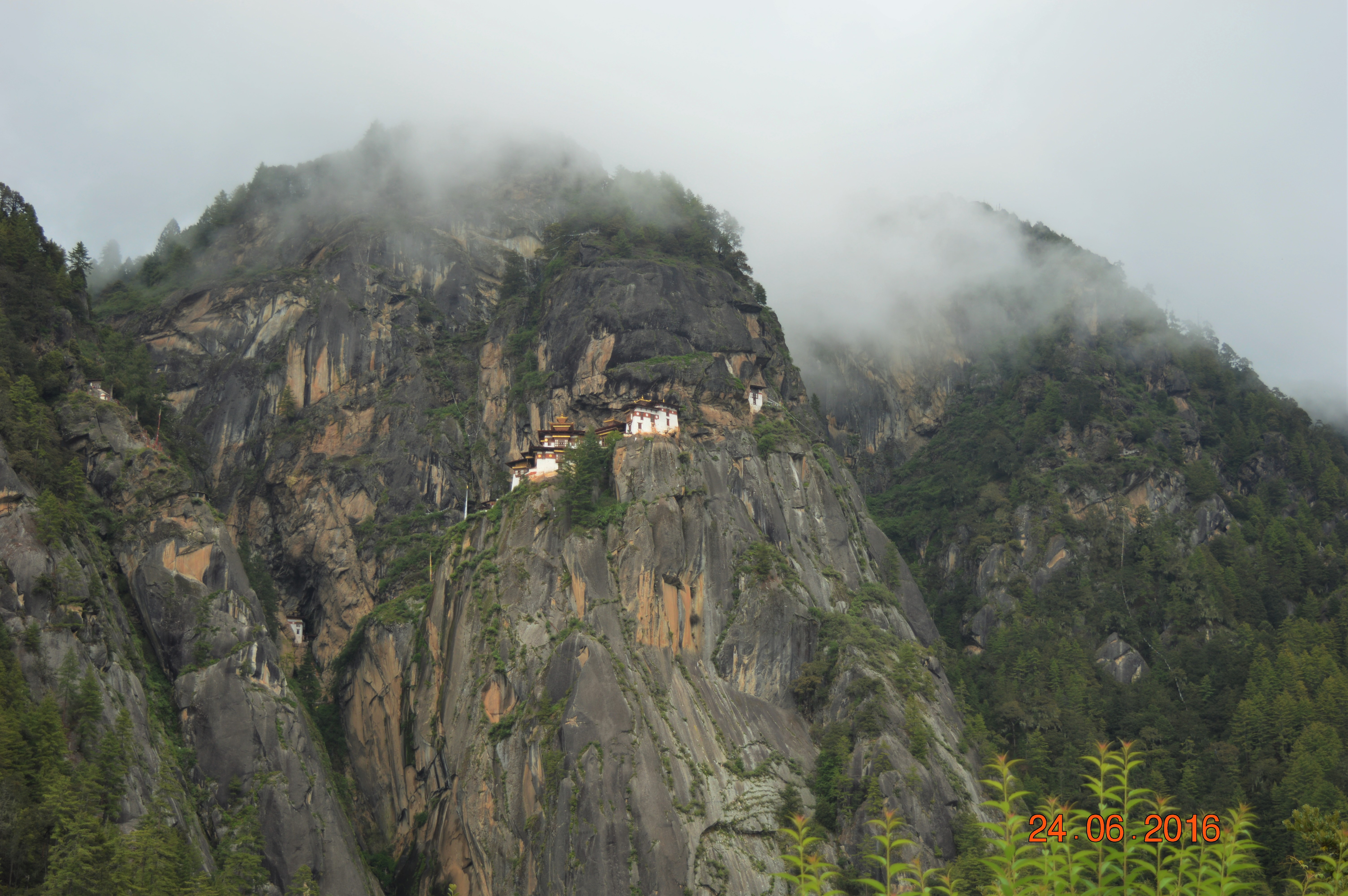 In continuation to my Meghalaya trip that I recently posted, next destination lined up was Bhutan. If you've read about my Meghalaya trip, you would understand what an eventful journey it was for me to reach Guwahati from Shillong!!
I boarded a train from Guwahati and took a halt at my relative's place which is near to Jaigaon (boarder city of Bhutan). This time I had decided a family bonding clubbed with my vacation. It was definitely an excellent idea 🙂
My cousin was waiting for my arrival (I guess eagerly) as she too was looking forward to visit Paro. Visiting Paro seemed to me like visiting my DREAM DESTINATION as I was extremely excited to experience what the place had to provide. Next day we decided to visit Phuntsholing to get our entry permit. We were lucky that our uncle accompanied us to the embassy and helped us with the formalities. For those traveling by road to Bhutan, you need to take a permit from Bhutan Embassy in Phuntsholing. You need to fill a form where you will be asked to clearly mention the purpose of visit and number of days you are planning to stay. Finger print will be taken and permit provided, make sure to carry a voter id or passport. The process will not take much time if there's no long queue. I have seen people reach the embassy early in the morning when it opens around 9AM and get the pass done and travel the same day.
Next day was the big day!! Excitedly we left for Phuntsholing to catch a taxi to Paro. Shared taxi will carry 4 passengers and will cost you Rs600 each but you'll have to wait till it gets filled. You can hire a taxi if you're ready to pay for all 4 seats. I decided to hold on my excitement and be sensible. We were finding lots of travellers for Thimpu but nobody for Paro. I had already made my mind to travel to Paro first so I sticked by my decision. Finally, after waiting for couple of hours we did find 2 travellers for Paro. Ohhh it was such a relief I can't express!!
From Phuntsholing to Paro is supposed to be a 6hrs journey by road and since we were travelling in the month of June, I was little conscious if the roads would be in drivable condition and if the weather would be supportive. Everyone did try to convince me to think twice, but I had made my decision and there was no stepping back.
So June was it and Paro it was!! Our taxi took off and soon we were on our way..
Way that lead to Paro from Phuntsholing was so captivating that I have no words to say as I feel any superlative I use to express will not be able to justify it. As we neared to the place I instantly fell in love with it. We reached Paro in the evening around 5PM and the happiness and satisfaction was immense. We were staying at my schoolmate's place with her sister and kids as she was not around. Schoolmate…  YES!! My high school had lots of students from Bhutan and we had studied together for 2 years but never thought something like this would ever happen. World is definitely a small place and I agree to it. So yeah.. we were staying in her Army quarter and the area was so huge and spacious that it provided an excellent view of the surrounding of Paro. The happiness that I was experiencing was impeccable!!
Most awaited trek to Taktsang was lined up for early morning next day. We started the climb at around 8:30AM and even after taking a halt at multiple places reached around 11:00AM. It started raining on the way making the climb difficult but thankfully we had carried umbrellas for our rescue. Taktsang is a monastery (Buddhist temple) up on the hills and the best part of it is its unique location. It is indeed a tough hike if you're not used to hiking as there's no other way except climbing through the steep way across the forest to reach the place. However, a visit to Bhutan is incomplete without seeing this place. There's something magical about Paro and definitely visiting Tiger's Nest (that's what Taktsang is commonly known as) completes the visit. If you don't want to hike all the way to the Tiger's Nest you can take a horse ride till the café which is half way and walk up from there. Horse steps very near to the cliff and it made me thinking, one wrong step and you're gone.. that was scary!! My cousin decided to take a horse ride and walk thereafter but I would suggest everyone who feels that they can do it should definitely try. You will feel mission accomplished when you reach your destination!! Trust me it's an awesome feeling .. so go for it …
You are not allowed to carry your camera inside the monastery so you'll have to leave it behind in the locker provided. Up in the monastery you will come across lot of monks chanting or doing their rituals. Taktsang might be a tourist destination and you'll find people from all across the globe visiting it, but for some it is a holy place and they come mainly to perform their rituals. I had come across mid age aunties from Nepal who were visiting the monastery with lots of offering as they wanted to perform rituals. I also came across an old uncle from United States who happily clicked some pics for us on the way.
After visiting the monastery, we headed back to the parking lot. Way back seemed more difficult as it had rained leaving the way slippery. Did I slip?? Ohh yes I did; couple of times and fell down once!! It was funny… Lol ..
It was an incredible start of the trip and my feeling for the place grew even stronger. Outcome of the Taktsang trek was that it was so damn tiring that we covered one more sightseeing that day but I don't remember a thing about it now. We were so freaking tired that we had to tell the driver to take us for lunch in the downtown Paro and get back home. We slept like a log, I don't know for how many hours!! So I would say we just covered one sightseeing that day but what we experienced that day was enough; we didn't require anything more.
Initially I had planned to stay in Paro for 2 days and Thimpu for 2 days but because of my miscalculation I had to extend my stay in Paro for a day. I would suggest everyone traveling by road and not hiring a taxi, visit Thimpu first as you'll reach in 4hrs and easily find co-passengers to accompany you. That ways you can cover most of the sightseeing of Thimpu the same day and cover the rest the next day and leave for Paro on the 3rd day morning.
Thimpu to Paro is hardly 1.5hrs so you can cover the major attractions of Paro that same day, trek to Taktsang the next day and leave on 3rd.  This itinerary I'm suggesting is for people who are planning a 4nights 5days for Paro and Thimpu.
Coming back to ME; so yeah… I extended my Paro stay for 1 day more so as to cover the rest of the attractions of Paro and moreover I feel "N" number of days you spend in Paro is not enough. There's definitely something magical about the place.
We left for Chelela pass the next day morning after a good night sleep. Chelela is the highest point on Dantak Road with an altitude of 3988 Mtrs. I would like to mention again we were travelling in the month of June, hence it started raining as we reached and the breeze was so chilly, I really missed my warmers and jackets. No matter how bad the weather was we were lucky to have carried our umbrella and the breeze didn't stop us from stepping out of the car. Oh yeah, not to forget the man in the Maruti van selling tea and Maggie and other eatables.  Tea and Maggie was such a relief in the cold. We couldn't see the view because of the dense fog so can't say much about the surrounding but the air that we were breathing felt so pure and refreshing.
Something interesting that we can across on the way to Chelela Pass was a place where you can take a Hot Stone Bath. Our driver cum guide was efficient enough not just to drive us to the attractions of Paro but also to guide us to the "must see" and "unseen" places around. This place that he took us might not be a tourist attraction but I really liked what I saw there. We parked our car on the way and climbed up a little where I saw a man heating a big stone in an open air. The bath tub was made of a wood and the water was taken from a flowing stream and the hot stone which was being heated was dropped in it. They say that many illness gets cured as the water is taken from a medicinal stream. Not sure how true it is but there was a woman who was vouching for it as according to her she and her husband travelled to Bhutan just for this.
Anyways, after Chelela Pass we left for Drugyal Dzong. Drugyal Dzong is a fortress situated for about 14km from Paro. Our driver cum guide accompanied us to the fortress narrating the historical significance of the place. The place is in ruins and according to him it was because of the consequence of the war between Tibet and Bhutan which eventually Bhutan won. I have not done much of a research of the place so I don't know the actual truth; but would like to say that this place is a must visit not just because of its historical significance but also for its architecture.
We then headed to Kichu Lakhang which is a small monastery. This monastery also gives you an immense sense of serenity like the others that I visited in Paro. There are prayer wheels which am sure everyone who visits the place will definitely spin it once.
It was tough to say goodbye to Paro but every good thing also has to come to an end. I had just spent 3 days in the most beautiful and serene place!! I wished time would go slow or come to a halt for few days more but perhaps that didn't happen so we backed our bags, bid adieu to our host and her adorable kids and left for Thimpu.
We someone got so used to our driver cum guide that we decided to ask him to drive us to Thimpu and take us around the place too. So yeah.. we left early morning next day to Thimpu which was just about 1.5hrs drive. After reaching Thimpu around 10AM we dropped our bags at the hotel and directly headed for the sightseeing.
We went to the National Memorial Chorten which is built in 1974 as a memorial to the King, Jigme Dorji Wangchuck. You'll see lots of devotees circumambulate and chant. The place was nice and huge and crowded too as there were lots of visitors. As per me I guess 30-45 minutes is sufficient to walk around, take some pics and move ahead. The prayer wheel that I saw there was really huge in size and people were sitting on the floor, chanting I guess. I did not even try to go there and spin, it was really huge.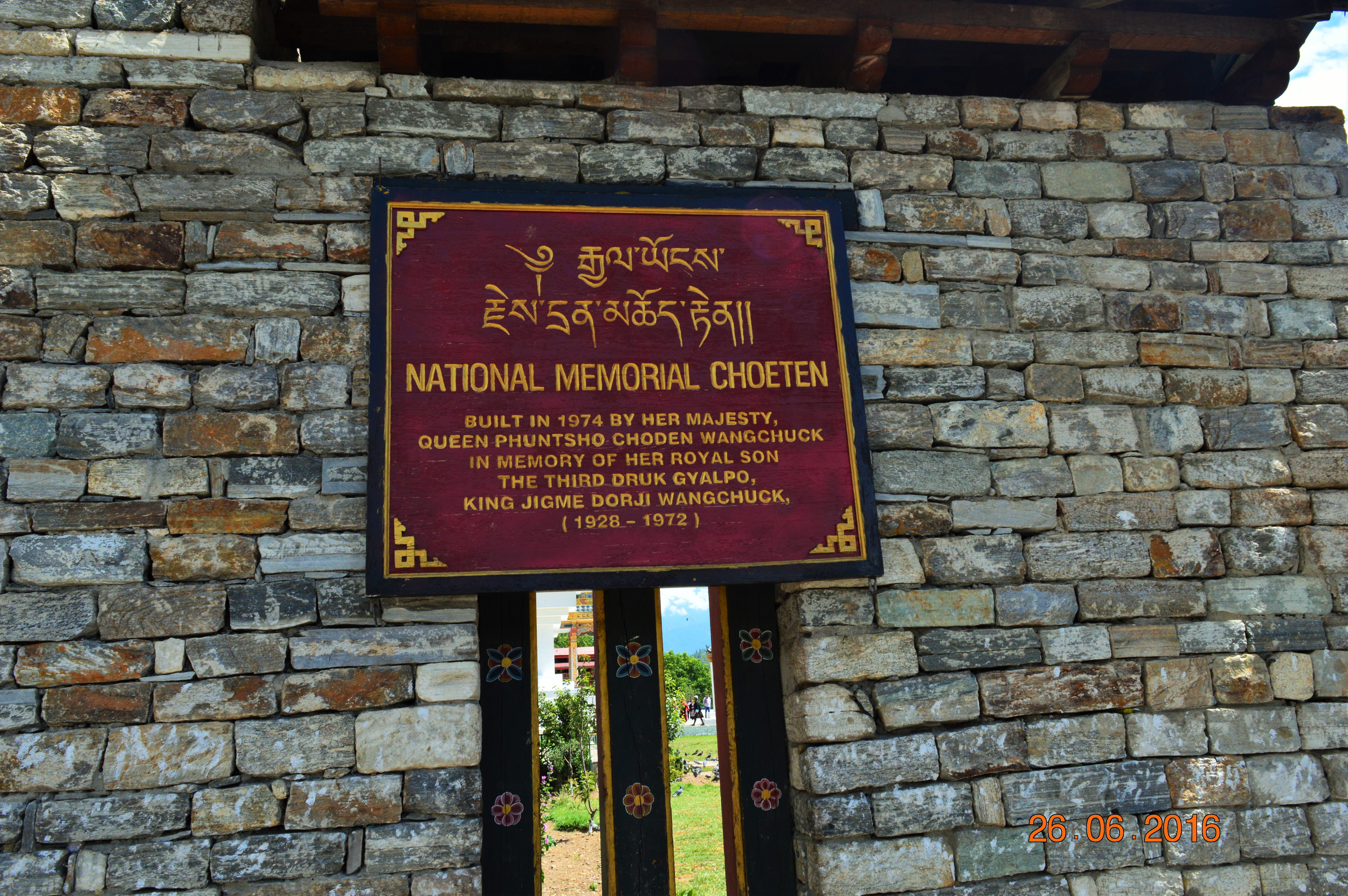 After spending about 30mins we headed towards the most talked about and the most happening point in Thimpu – "Buddha Point". Visit to Thimpu is incomplete without visiting this place. The gigantic statue of Lord Buddha in sitting posture is definitely a visual treat!! The statues that you see inside is incredible. Area is huge and some of it is still under construction. Buddha Point is definitely a must visit.
Just beneath the Buddha Point was Kuenselphodrang Nature Park. Our driver suggested that we see that too and we blindly followed his suggestion and am glad we did that. If you hike a little up in the park, you'll be able to view the Thimpu city and also the massive Buddha statue very clearly. You can easily spend an hour or even more if you have time in hand. We encountered a family celebrating their kid's birthday on the little bamboo open hut up on the hill. I seriously felt that could be the most enjoyable B'day celebration for anyone!! We also saw a lot of cyclist riding up the way. If you plan to visit this park you need to hike a bit to explore the place. We seriously didn't feel like leaving this park as it was so peaceful and near to nature.
We finally ended the day and our trip with Takin Zoo. Takin is a national animal of Bhutan. It looks very unusual; half goat and half cow!! Check the photos that I've posted to have a look. We spent a short period of time there and left back to the hotel. So that was it; we bid adieu to our driver cum guide who had by then become a friend.
So with that we completed our Bhutan trip. Since we had already spent 3Nights in Paro, we just kept 1Night for Thimpu. Anyways, I had already left my heart in Paro 🙁
Strolled around the streets of Thimpu in the evening, tried to absorb all that I had experienced in the past 4 days and told myself that every good thing also comes to an end.
Took a bus on the way back from Thimpu to Phuntsholing the next day. From Phuntsholing you can take a taxi to Jaigaon, which is a border city of India. Once you reach India you get Bus/Taxi/Train to nearby places.
Must Visit:
In Paro, PLEASE trek to Taktsang. It might look tough but try it.. you'll feel really good after accomplishing it.
Take a drive to Chelela Pass. If the weather is good, you'll definitely enjoy a lot.
Visit Drugyal Dzong. You'll like the architecture
Memorial Chorten can be visited as it's in the heart of the Thimpu city
Buddha Point is definitely a must visit.
Visit the Nature Park if you are a nature lover
See the national animal of Bhutan at Taksin Zoo
VERY IMPORTANT INFORMATION:
You'll have to submit the permit before you leave Bhutan. Nobody asked us in the bus for it and we didn't know that it had to be submitted. After almost 15 days I got to know from a friend that there's a fine of Rs165 per day levied for the delay. We had an option of not paying, only if we don't plan to travel to Bhutan ever. Giving it a second thought and thinking about Paro we decided to pay it off before the amount increases.
For Indians, you just have a permit to enter Bhutan
If you are traveling by road you can get a permit from Bhutan embassy in Phuntsholing
For permit only Voters Id or Passport is accepted; Pan Card or Driving Licence are not accepted
Lastly, if you ever plan to visit Bhutan; you can contact me. I can get you hotel stay and sightseeing.
That's all for now 🙂
Hope you've enjoyed reading.
Cheers!!